TideIllustrated – Malik Benson's work ethic draws comparison to another Alabama great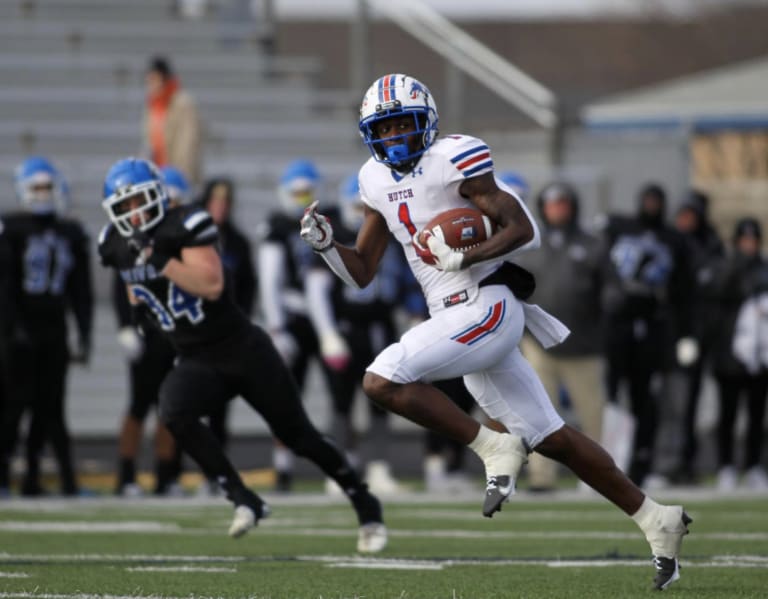 Vincent Sanders knows what "it" looks like. That undefinable character trait used to separate the greats from the truly elite, he's seen it. The last time he did, it led to something special.
You might remember Sanders from DeVonta Smith's Heisman Trophy acceptance speech. The former barber turned mentor had a backstage pass to the receiver's ascension to stardom as well as the sweat and sacrifice that journey entailed.
Sanders was there feeding the JUGS machine when Smith wanted to sneak in extra reps late at night. He'd also watch the receiver stay up well past 1 a.m. studying film only to beat the sun back to the practice field the next morning. Sanders didn't expect to encounter that level of relentlessness again.
Then he met Malik Benson.
Renowned in college football circles, Sanders is in the ear of several of the nation's top athletes, including roughly 30 current SEC players. Some of those will move on to the NFL, and a few could end up as first-round picks. Benson is the only one that reminds Sanders of Smith.
"When you're on the road, you see a lot of Mercedes," Sanders said. "Mercedes is a hell of a car, but you'd rather have a Lamborghini, right? I see a lot of Mercedes in kids, but every once in a while I see a Lamborghini, and it reminds you that it's the top dog. That's what Devonta and Malik are to me."
Sanders was introduced to Benson two years ago during the receiver's first season at Hutchinson (Kan.) Community College. Within a few phone calls the two instantly clicked.
Most of Sanders' conversations with Benson come before or after a workout. Like Smith, the star receiver has a habit of making his way to Alabama's indoor practice facility for extra reps on a regular basis. He also shares the Heisman winner's constant pursuit of perfection.
During his two seasons at Hutchinson, Benson set the school's receiving record with 2,152 yards to go with 21 touchdowns through the air over 23 games. However, Sanders hasn't heard the star receiver talk about stats once. Instead, Benson is more concerned with breaking down his tape and fixating on polishing the few blemishes in his game.
"It was like, wait a minute, I've seen this before," Sanders said. "I've seen this hunger. I've seen somebody that wants it and is willing to do anything for it. He doesn't worry about the accolades or any of that. That's the mindset DeVonta had when he won the Heisman."
Like Smith, Benson comes to Alabama as somewhat of an underdog. Before becoming the No. 1 rated JUCO player in the nation, the Lansing, Kansas native was an unknown on the football field. Playing in a Wing-T offense in high school, he recorded just 1,119 yards and 11 touchdowns across three varsity seasons.
Instead, his future appeared to be on the track where he boasted a 10.3 time in the 100-yard dash as well as a long jump of 25-plus feet. That athleticism garnered interest from LSU, Texas Tech and UCLA among others. However, poor performance in the classroom delayed his dream of reaching the Division I level.
Hutchinson presented a second chance he wasn't going to waste.
After serving almost exclusively as a deep threat in high school, Benson saw JUCO as an opportunity to restart his football career by fine-tuning his game beyond his elite speed. Soaking up every bit of coaching he could, he became meticulous with his technique, analyzing his every move through countless hours of film work before perfecting it ad nauseam on the practice field.
"Malik is a grinder. He's old-school," Sanders said. "Kids these days want instant gratification, but what happened to grinding? Malik went the long route with junior college, but the long route made him who he is. He's a grinder, and he trusts the process. He understands the process because he lived it over there."
Sure enough, the process produced results.
Benson wasted no time fitting into Hutchinson's offense, earning first-team NJCAA DI All-America honors during his freshman year while hauling in 43 passes for 1,229 yards and 11 touchdowns in 11 games. The breakout season had Division I coaches eating out of his hands, allowing him to take his pick between the nations' premiere programs. Ultimately he chose Alabama, committing to the Crimson Tide on July 5 of last year.
The elevated status did little to alter his humble approach.
Hutchinson receivers coach Matt Martin was hired a day before Benson's commitment to Alabama. His first impression of the star receiver was one of shock as he was surprised to find him on the practice field moments after his announcement.
"An hour later, he's organizing all the receivers and all the quarterbacks to be out on the field throwing," Martin said. "For a lot of guys, it would be like, 'I made it, I'm at Alabama.' With him, it's like 'I'm at Alabama, and now it's time to prove why.'"
This past season, Benson did just that. Despite sharing a receiving corps with four other Division I wideouts, he once again led the Blue Dragons with 977 yards and 10 touchdowns on 59 receptions. That included a few more jaw-dropping moments for Martin.
Perhaps the most impressive play on Benson's highlight reel came during last year's season opener against Navarro. Facing a third-and-15 from the Hutchinson 10-yard line, the speedy receiver secured a screen pass with one hand before racing 90 yards untouched into the end zone.
"He just reaches down and grabs it on the run," Martin recalled. "There are guys ahead of him who have an angle on him, but he completely out runs the angle. I'm just kind of in shock and awe about what happened, and then it's even more impressive when you see it on film the next day.
"His speed is incredible. There were several throws in practice where you thought the ball was 5 or 10 yards overthrown, and then you look up and Malik is under it."
After a year of highlights, Martin says he won't be surprised by anything Benson does at Alabama.
While Hutchinson typically lined up the 6-foot-1, 185-pound playmaker at the X receiver position, he also has the shiftiness to move inside to slot at the next level.
"Whatever they ask him to do, he will excel at that role," Martin said. "Obviously, he's going to be a deep-ball guy because of his speed. That's just a given. He's a physical target, too. He's good at getting his body in the right position to make plays. There's a lot of good corners in the Jayhawk league that he's played against, so he's used to the physical play. He'll be ready for everything they throw at him."
Benson is already off to a fast start at Alabama. According to sources, he shined during Sugar Bowl preparations with the team last month, causing fits for the Crimson Tide's first-team cornerbacks during practice.
"He has a lot of maturity," Alabama receiver Ja'Corey Brooks said last month. "I've seen he's got a lot of quick agility. I love his style of play."
Alabama's hope is that Benson's speed unlocks a receiving corps that failed to gain separation for much of last season. The Crimson Tide returns its top two targets in Brooks and Jermaine Burton, but don't be surprised if the offense features a new "it" factor this fall.
"People expect Malik to ball, but they're going to be like 'Woah, wait a minute," Sanders said. "He's going to show you something."