TideIllustrated – How to watch: No. 7 Alabama hosts Kentucky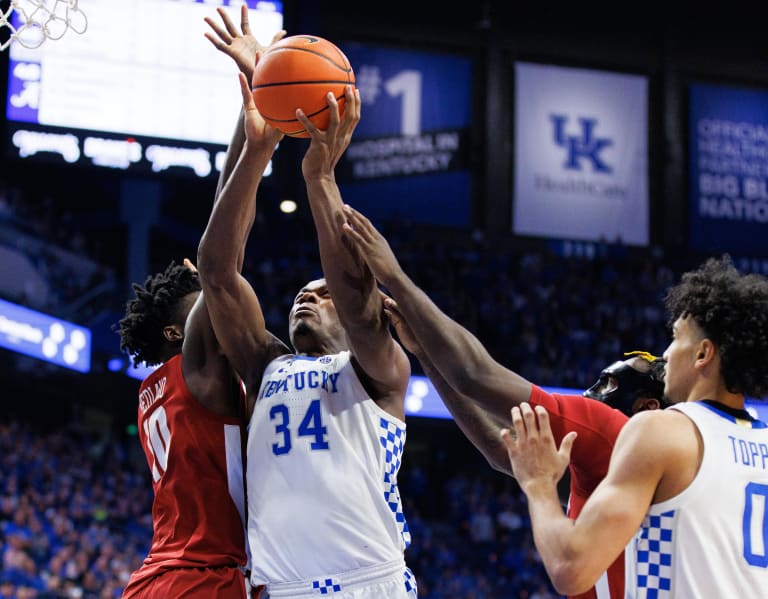 TUSCALOOSA, Ala. — Alabama head coach Nate Oats made it very clear what their expectations were for his team after downing Ole Miss. If the Crimson Tide wants to be competing for an SEC Championship, it will have to take care of its games at home.
Saturday's test will be the team's toughest as Alabama plays host to Kentucky who sports a 117-40 record against the Crimson Tide. While the Wildcats come into this year's matchup unranked, Oats said he doesn't expect a drop-off from the eight-time national champions.
"It's still Kentucky. You'd have to do this for year after year after year," Oats said. "Now, I will say this, people's memory gets a little shorter here. Kentucky's Kentucky. They've been doing it for multiple years, especially since Cal took over. We won the SEC two years ago and were in the middle of the pack last year and the middle of the pack the year before. We've got to do this for multiple years in a row to get where I feel like people are going to look at us the way they look at Kentucky, to be honest with you."
With Alabama looking for its second 3-0 start in conference play since the 1986-87 season, here's everything you need to know as the No. 7 Crimson Tide hosts the Wildcats.
How to watch
Who: Kentucky (10-4, 1-1) vs. No. 7 Alabama (12-2, 2-0)
When: Noon CT, Saturday, Jan. 7
Where: Coleman Coliseum, Tuscaloosa, Ala.
Watch: ESPN (play-by-play: Karl Ravech; analyst: Jimmy Dykes)
Listen: Crimson Tide Sports Network (play-by-play: Chris Stewart; analyst: Bryan Passink; sideline: Roger Hoover; engineer: Tom Stipe)
Alabama's projected starting lineup
Jaden Bradley: 6-foot-3, 185 pounds, freshman
Stats: 9.1 ppg, 3.0 rpg, 3.8 apg, 44.0% FG, 25.0% 3-pt
Mark Sears: 6-foot-1, 185 pounds, junior
Stats: 14.6 ppg, 3.8 rpg, 2.7 apg, 43.6% FG, 43.3% 3-pt
Brandon Miller: 6-foot-9, 200 pounds, freshman
Stats: 19.1 ppg, 8.6 rpg, 2.1 apg, 43.0% FG, 45.1% 3-pt
Noah Clowney: 6-foot-10, 210 pounds, freshman
Stats: 9.8 ppg, 8.7, rpg, 0.9 apg, 52.3% FG, 30.8% 3-pt
Charles Bediako: 7-foot, 225 pounds, sophomore
Stats: 5.5 ppg, 6.4, rpg, 0.6 apg, 60.0% FG
Kentucky's projected starting lineup
Sahvir Wheeler: 5-foot-9, 180 pounds, senior
Stats: 9.1 ppg, 2.6 rpg, 6.8 apg, 40.7% FG, 38.5% 3-pt
Cason Wallace: 6-foot-4, 193 pounds, freshman
Stats: 12.9 ppg, 3.6 rpg, 3.9 apg, 50.4% FG, 42.9% 3-pt
Chris Livingston: 6-foot-6, 220 pounds, freshman
Stats: 5.7 ppg, 2.9 rpg, 0.5 apg, 44.3% FG, 39.1% 3-pt
Jacob Toppin: 6-foot-9, 205 pounds, senior
Stats: 11.5 ppg, 6.1 rpg, 1.8 apg, 45.1% FG, 17.4% 3-pt
Oscar Tshiebwe: 6-foot-9, 260 pounds, senior
Stats: 16.8 ppg, 13.8 rpg, 1.5 apg, 61.1% FG
Third round with Tshiebwe
Charles Bediako wasn't going to unveil any part of Alabama's plan of stopping Oscar Tshiebwe.
No matter how many probing questions he fielded from reporters, the center said that Alabama has a plan to slow down Tshiebwe and then complimented his game.
"He's a good player, is always moving," Bediako said. "He's never like taking any breaks off. He's a good player who knows how to work his angles."
The last time Bediako and Tshiebwe squared off the Democratic Republic of the Congo native recorded a double-double against the Crimson Tide, tallying 10 points and 15 offensive rebounds. Bediako tried his best to keep up with his 12 points on 4-of-4 shooting and eight rebounds, but Tshiebwe along with Tyty Washington proved to be too much en route to a 66-55 Kentucky win in Coleman Coliseum. The center took it to another level just two weeks later with 21 points and 14 rebounds against Alabama in Rupp Arena.
Tshiebwe went on to become the unanimous National Player of the Year, becoming the first player in program history to accomplish the feat.
The towering 6-foot-9 center picked up right where he left off last season by amassing an SEC-leading seven double-doubles in 2022. He's also averaging a double-double through 12 games tallying 16.8 points per game while leading the nation in rebounds with 13.8 per game.
"We've played some good bigs," Oats said. "Sissoko at Michigan State. We played UConn. We played Gonzaga with Timme. We've played three of the best bigs in the country. Now, we've got the returning national player of the year. We've had a little bit of experience playing bigs. We haven't been totally successful with all of them. Obviously, we lost two of those three games I just listed. We've gotta do a little bit better job. I think Charles will be better."
Kentucky's offense far from archaic 
After starting the season at No. 4 in the Associated Press Poll, Kentucky will come into Coleman Coliseum unranked for the first time since 2021.
Despite four losses, including two top 10 teams in No. 9 Gonzaga and No. 10 UCLA, the Wildcats have come under fire from fans and critics about their recent play. One of the areas the naysayers have highlighted is Kentucky's offense citing inconsistent shooting and a heavy reliance on Tshiebwe this season.
Oats disagrees with the Wildcats' critics.
"Their offense is actually really good, if you go look at KenPom right now their offense is better than our offense," Oats said. "I'm not quite sure what their fans are restless about because if you look at their effective field goal percentage is high because they're making shots."
Coming into Saturday's matinee game, Kentucky sports a three-point field goal percentage of 39% which leads the SEC. That high three-point percentage is buoyed by freshman Cason Wallace who is second on Kentucky in scoring, averaging 12.9 points per game while shooting an efficient 42% from behind the arc.
"We can't let their shooters get off," Oats said. "Cason Wallace has played well for them. Sahvir Wheeler in my open gets their offense going. He gets into the lane and creates offense for the other guys. He's shooting the ball better and he's fairly selective with shooting three-pointers. … This is a big game against a team that was picked to compete for a national championship."
Games notes
— Alabama is looking to improve to 3-0 in SEC play for the first time since 2020-21 and second time since the 1967-87 season
— Brandon Miller was named to the John R. Wooden Midseason Top 25 Watch List this week
— Miller has been named SEC Freshman of the Week three times this season
— Alabama has a program-record four top-25 wins before the New Year. Its previous high was when it defeated two ranked teams in 2015, when the Tide knocked off #17 Notre Dame and #20 Wichita State prior to the start of conference play
— Alabama has posted four wins over top-25 opponents in back-to-back seasons for the first time in program history
— Alabama is the first team since 1965-66 (Duke) with multiple wins over the AP No. 1 team before the New Year
— Miller is averaging 19.1 points per game, the most by any freshman in the country and No. 34 overallMiller is the only freshman in the country to rank in the top 65 in points per game (No. 35) and rebounds per game (No. 61)
— Miller is one of 10 players in Division I, the only player in the SEC and the only freshman in the country that has scored 260 points and recorded 120 rebounds this season
— Noah Clowney ranks No. 51 in the country at 8.7 rebounds per game, which is second best among freshman in the country
— Alabama ranks No. 1 in the country in rebounds per game (46.5) and defensive rebounds per game (32.5), while also ranking No. 5 in offensive rebounds per game (13.9) and No. 9 in rebound margin (+9.1)