TideIllustrated – How to watch: No. 4 Alabama basketball hosts Vanderbilt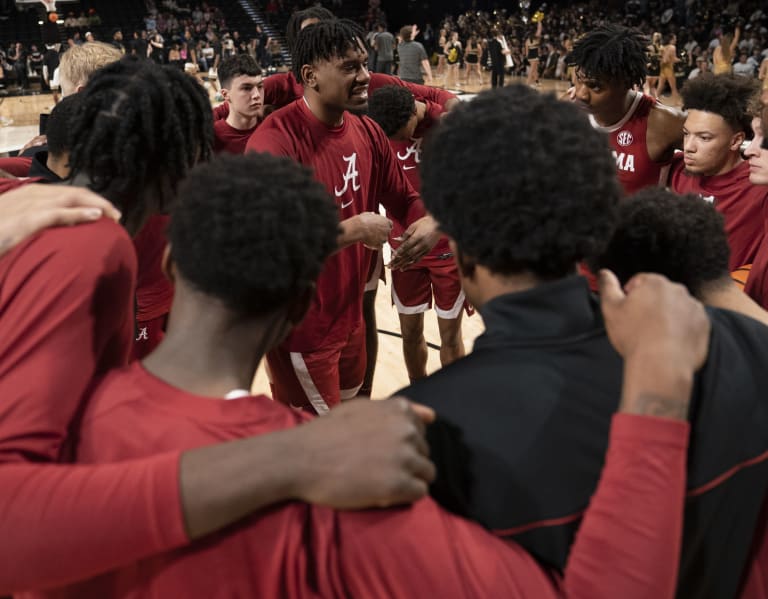 After receiving a wake-up call in a win over Mississippi State last week, Alabama basketball got caught hitting the snooze button during a trip to Oklahoma over the weekend. The Sooners blew out the Crimson Tide, 93-69, in the Big 12/SEC Challenge, snapping Alabama's nine-game winning streak while handing it its worse loss in the Nate Oats era.
No. 4 Alabama will now return to SEC play where it will look to build on its undefeated conference record against Vanderbilt on Tuesday. Here's everything you need to know about the matchup.
How to watch
Who: No. 4Alabama (18-3, 8-0 in the SEC) vs. Vanderbilt (10-11, 2-6)
When: 7:30 p.m. CT, Tuesday, Jan. 31
Where: Coleman Coliseum, Tuscaloosa Alabama
Watch: SECN (play-by-play: Mike Morgan; analyst: Daymeon Fishback; Sideline: Alyssa Lang)
Listen: Crimson Tide Sports Network (play-by-play: Chris Stewart; analyst: Bryan Passink; engineer Tom Stipe)
Alabama projected starting lineup
Jaden Bradley: 6-foot-3, 185 pounds, freshman
Stats: 8.1 ppg, 2.8 rpg, 3.4 apg, 41.7% FG, 31.3% 3-pt
Mark Sears: 6-foot-1, 185 pounds, junior
Stats: 14.0 ppg, 4.0 rpg, 2.7 apg, 41.1% FG, 36.4% 3-pt
Brandon Miller: 6-foot-9, 200 pounds, freshman
Stats: 19.0 ppg, 8.1 rpg, 1.8 apg, 45.5% FG, 44.5% 3-pt
Noah Clowney: 6-foot-10, 210 pounds, freshman
Stats: 10.1 ppg, 8.5, rpg, 0.8 apg, 47.6% FG, 24.2% 3-pt
Charles Bediako: 7-foot, 225 pounds, sophomore
Stats: 5.1 ppg, 5.6, rpg, 0.6 apg, 57.1% FG
Vanderbilt projected starting lineup 
Tyrin Lawrence: 6-foot-4, 200 pounds, junior
Stats: 10.7 ppg, 3.5 rpg, 1.8 apg, 44.2% FG, 25.5% 3-pt
Trey Thomas: 6-foot, 160 pounds, junior
Stats: 6.8 ppg, 2.1 rpg, 1.3 apg, 34.3% FG, 33.7% 3-pt
Colin Smith: 6-foot-8, 215 pounds, freshman
Stats: 3.8 ppg, 2.8 rpg, 0.8 apg, 33.3% FG, 33.3% 3-pt
Myles Stute: 6-foot-7, 215 pounds, junior
Stats: 10.4 ppg, 5.3, rpg, 0.7 apg, 41.4% FG, 44.1% 3-pt
Quentin Millora-Brown: 6-foot-10, 245 pounds, senior
Stats: 3.4 ppg, 3.9, rpg, 0.7 apg, 48.1% FG
A familiar wake-up call 
Saturday's speed bump against Oklahoma felt a little familiar to Jahvon Quinerly. The senior guard is the only remaining player from Alabama's 2020-21 team and remembers facing a similar mid-season slump en route to an SEC title that year.
After getting off to a 9-0 start in conference play in 2021, the Crimson Tide suffered a loss at Oklahoma in the Big 12/SEC Challenge before falling again at Missouri two games later. The minor blip didn't end up derailing Alabama as it bounced back to win 11 of its next 12 games, winning both the SEC regular-season and conference-tournament titles before advancing to the Sweet 16 of the NCAA Tournament.
Sunday, Quinerly addressed the team, using his past experience as an example of how the Crimson Tide can rebound from its recent adversity.
"Jahvon brought that up with the team," Oats said. "But we've gotta get back to – it's not just gonna happen because that's the way it happened. That team was the one that made it happen. We took the loss, guys regrouped. We've gotta play harder, we've gotta change things. Things don't change unless you make them change."
If the past two practices are any indication, Alabama is on track to do just that. Oats called Monday's practice "a lot more intense," stating the team understands the urgency needed moving forward.
"They know what they've gotta fix, they talked about what they've gotta fix," Oats said. "I think this is a deal where we didn't play like we know we're capable of playing, and this isn't who we know ourselves to be. Let's get back to being who we wanna be, who we think we are, who we've proven to be in the past. There's no reason to panic. It's basketball. There's 31 games. They shot well. But if you don't change things, things aren't gonna change. We have to play harder. I think they're gonna respond well."
Another rematch 
After beating Mississippi State 78-67 on the road last month, Alabama barely held on for a 66-63 victory over the Bulldogs in Tuscaloosa last week. The Crimson Tide will look for a better showing in its second rematch of the season Tuesday as it takes on a Vanderbilt team it beat 78-66 in Nashville, Tennessee earlier this month.
Monday, Oats praised the Commodores, calling them a "physical, hard-nosed team" while stating that they take after their head coach, Jerry Stackhouse.
"You watch Stack play, he didn't back down from anybody," Oats said. "His teams don't back down from anybody either."
Despite losing by double digits, Vanderbilt fought until the end during its first meeting against Alabama. After trailing by as many as 23 points in the second half, the Commodores trimmed the Crimson Tide's lead to 6 points in the final minute before Alabama put the game at the free-throw line.
"No matter what the score is, they're never going to quit playing," Oats said. "We've got to keep playing hard. A) we can't assume we're going to get a lead because if we don't play hard, they are going to jump on us. B) If we do get a lead, we've got to continue to play hard like it got us there. I'd like to see improvements in that from Game 1 to Game 2 every time we play a team for the second time."
Brandon Miller, a Nashville-area native, led Alabama with 30 points and 10 rebounds in his return home earlier this month. Tuesday the star forward said he expects more of a challenge as he and the Crimson Tide go for the regular-season sweep Tuesday.
"I feel like it's tough beating a team two times," Miller said. "We have to come out with more energy than we did the first time we played them."
Game notes 
— Alabama is one of six schools (UConn, UCLA., Creighton, Houston and Purdue) to rank in the top-23 in both defense-adjusted efficiency (No. 6) and in offense-adjusted efficiency (No. 23) according to KenPom.
— The Crimson Tide's bench is averaging 30 points over its last three games.
— The last five matchups between Alabama and Vanderbilt have been decided by an average of 6.4 points.
— After averaging 69.8 points in non-conference play, Vanderbilt is scoring 75.1 points per game against SEC opposition.
— Vanderbilt boasts six players with a wingspan of 6-foot-8 or longer including Quentin Millora-Brown (7'2"), Malik Dia (7'1.25"), Lee Dort (7'1"), Liam Robbins (7'), Myles Stute (6'8") and Emmanuel Ansong (6'8").
— Stackhouse is one of three active NCAAD-I head coaches who was a top-three pick of the NBA Draft. Stackhouse was selected No. 3 in 1995 while Memphis head coach Penny Hardaway was taken No. 3 in 1993 and Georgetown head coach Patrick Ewing was the first the first pick in the 1985 draft.
— Vanderbilt is the only program in the SEC to improve in the NET rankings in each of the last three seasons. The Commodores ranked No. 155 in 2018-19, No. 142 in 2019-20 and No. 102 last season. They currently rank No. 62 this year.