TideIllustrated – Film study: A breakdown of No. 4 Alabama basketball's win at LSU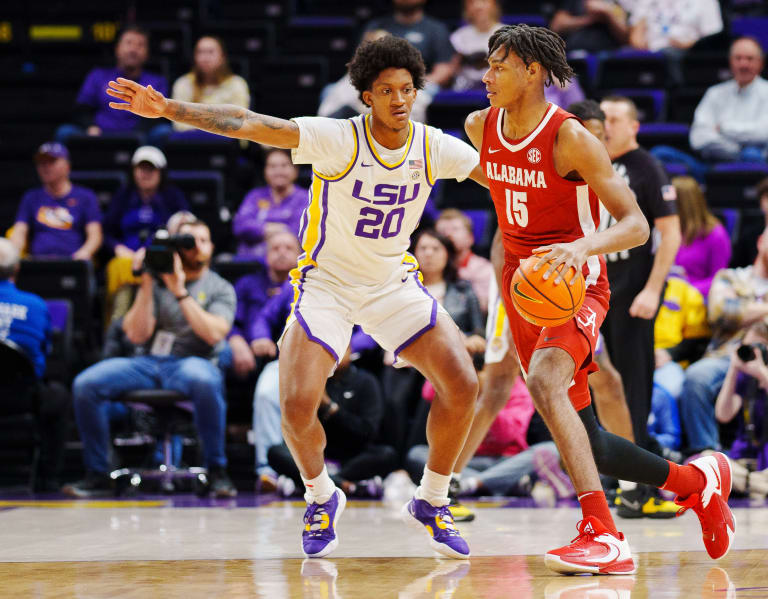 At times it was murky for No. 4 Alabama in its 79-69 road victory at LSU on Saturday. The Tigers hung around in the second half due in large part to a season-best 31 free-throw attempts.
This also wasn't a typical game for star freshman Brandon Miller who dealt with foul trouble, in addition to an 11-point output on 3-of-11 shooting from the field. Lucky enough, head coach Nate Oats was able to turn to redshirt sophomore guard Nimari Burnett and freshmen Noah Clowney and Rylan Griffen for quality offensive production in the 79-69 win in Baton Rouge, La.
Let's take a look at it.
Noah Clowney's versatility
Clowney is an immensely valuable weapon in Oats' dribble-drive system. An 18-year-old with his athletic profile, fluid 'gazelle-like' movement abilities and two-way versatility don't come through Tuscaloosa often.
"I told him when he got here, the hardest bigs to guard in pick-and-roll are the ones that can roll, finish at the rim, pick-and-pop, make a three, play in the short-roll, handle the ball," Oats said following the game on Saturday. "I think he does all of those really well, especially now that he's making threes."
Clowney leads all SEC underclassmen in field-goal percentage at the rim (70%, min. 60 attempts), according to Barttorvik.com.
On this possession, Jahvon Quinerly is initiating the offense near halfcourt, Griffen sets a ghost screen (a fake ball screen after which the would-be screener sprints away into space), allowing Alabama to empty up space on the strong side to minimize defensive help from the nail and allow Quinerly to generate an easy paint touch — this frees up a perfectly timed dive to the rim for Clowney.
The 6-foot-10 freshman forward ranks in the 84th percentile on cuts, per Synergy Sports.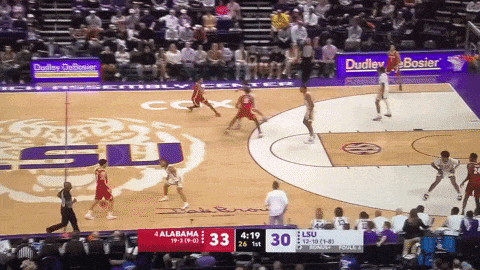 Here, Clowney sets a cross-screen for Burnett, which flows into a dribble handoff for Quinerly back in the initial direction. Clowney reverses the screen, causing Justice Hill (No. 3) to get caught up and Shawn Phillips Jr. (No. 34) attempting to simultaneously defend both the ball-handler and roller in drop defense. Clowney then utilizes his length and impressive hands to grab the ball with his right hand, cuff it with his opposite hand, and finish on the ally-oop.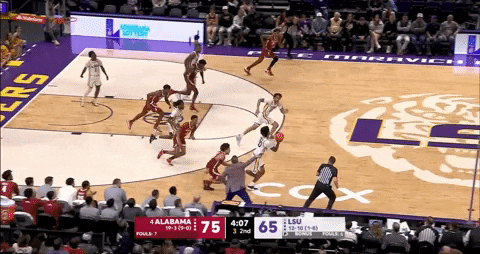 Defending in space in the half-court was a problem for Clowney in this game, but he was able to make an impact on defense via his shot-blocking prowess. On one of his three blocks, he displayed his elite ground coverage ability and relentless motor with this chase-down block.
Rylan Griffin is here to stay
The sharpshooting Griffen has broken through his freshman wall and quickly emerged as a focal point for the Crimson Tide. In his last three games, the 6-foot-5 wing has posted averages of 13.7 points, 5.3 rebounds and 1.3 assists on 60-percent shooting (9-for-15) from beyond the arc.
Griffen is one of the most confident, quick-fire 3-points shooters in the freshman class. If you give him any sort of space, he'll shoot it. If you attempt to make a late closeout, then too bad, his jumper is lightning quick.
There's only three high-major freshmen attempting more 3-pointers per 100 possessions (12.5) than Griffen: Texas Tech's Pop Isaacs and projected lottery picks, Keyonte George and Jett Howard. Some elite company.
Bullish on Burnett 
Burnett has reemerged himself since returning to the lineup after a month-long absence due to a left wrist injury, not just as a lockdown perimeter defender, but as a shooter that can provide value in a multitude of ways.
On this possession, Burnett is running wide in semi-transition, catches the ball in stride and quickly aligns his body for a smooth spot-up three.
Additionally, Burnett can be used as a movement shooter in zipper cuts (a commonly used cutting action where you cut from the post area up the lane to the high post or perimeter area) for example.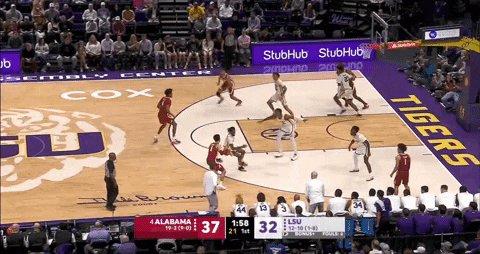 As we see here, Burnett receives the screen from Noah Gurley, uses a head fake, takes one dribble left, then quickly rises into an above-the-break pull-up jumper.
Burnett is an invaluable player in an invaluable archetype that Oats has leaned on as a stable cog in big moments. There's no Herb Jones-level defender on this team nor is there a score-first off-guard to the degree of Jaden Shackelford, but Burnett bridges the gap as an ultra-reliable do-it-all force on the wing.