TheOsceola – Notes: FSU's perimeter woes, building with transfers, McLeod to return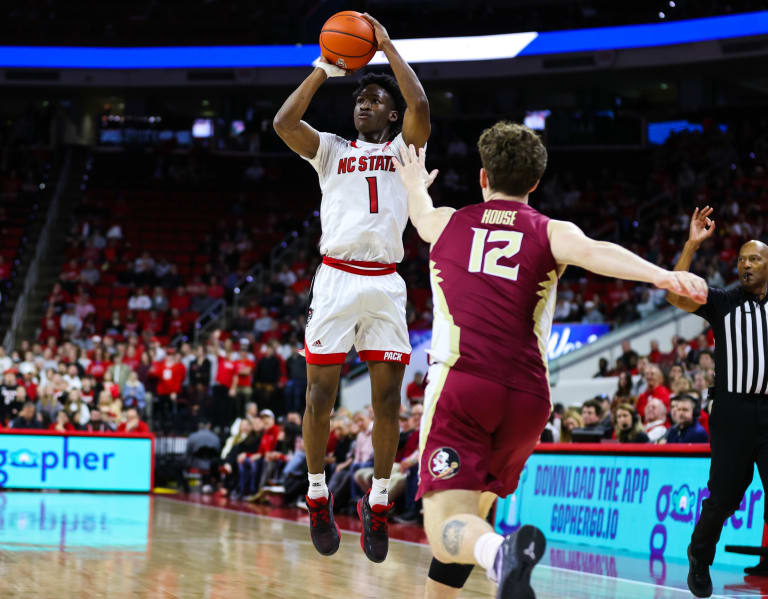 In a season where injuries and inexperience have exposed Florida State's weaknesses, one of the biggest deficiencies has been perimeter defense.
The Seminoles have allowed teams to shoot 36.7 percent from 3-point range this season — second worst in the ACC — with the last three opponents making 10 or more shots from beyond the arc.
"Our defensive systems have been built to handle all of these things," FSU coach Leonard Hamilton said. "And I think we've been extremely consistent in over the years with perimeter defense and how we have interior defense. We're not where we have been we are not executing system like we have.
"I'm not going to lean on inexperience, but that's who we are. We've always depended on juniors and seniors to lead our freshmen and sophomores. Right now, we are not as developed defending the perimeter as we have been in the past."
FSU's opponents are attacking early from the perimeter. NC State made nine 3s in the first half along en route to a 94-66 dismantling of the Seminoles on Wednesday. But it is only one example over the last month where four opponents shot 50 percent or better from 3-point range, all of which resulted in FSU losses. See the chart below
FSU's struggling 3-point defense
FSU uses a switching, man-to-man defense that doesn't allow opponents to use screens to get an open 3-point look. But the switches have created mismatches — power forwards defending point guards, for example — and while that has worked well in previous seasons with an athletic, long big man like Malik Osborne it has not with the Seminoles' younger players in 2022-23.
"There's no other way I can sugarcoat it," Hamilton said. "I can't make any excuses. We're just not as good a defensive team. And when you run the same drills, the same teaching methods but we have not developed consistently our defensive scheme as we have in the past. That makes us very vulnerable every night. Some teams we're more vulnerable to than others."
Hamilton has used a zone defense on occasion but has stuck with man defense as it's the preference in his scheme. Going to a zone would also require players to learn those principles on the fly during the season.
While FSU found some success defending the 3-pointer in road wins over Pittsburgh and Notre Dame, two of their biggest losses have come of late as Miami (23-point margin) and NC State (28-point margin) built massive first-half leads.
"Obviously we've had a tendency to have slow starts," Hamilton said. "There have been many times where we've gotten off to a slow start, but we normally get ourselves back into contention with defense and get stops. The last couple of games that we played it seem as though we are not getting the stops that we need to stop the bleeding."
Missed memo
Hamilton has spoken often in December and January about "missing the memo" when it comes to how the coaches should have used the transfer portal more in building the 2022-23 season. Injuries to a pair of transfers, Cam'Ron Fletcher and Jaylan Gainey, have also underscored the Seminoles' issues in a 7-16 season but Hamilton sees how college basketball teams are leaning more and more on transfers.
"Every morning I get up I feel miserable," Hamilton said. "I feel like, 'What did I miss? What could I have done to prepare for the unexpected?' It's a new day in college sports. Most of my colleagues are playing strictly out of the portal. Just about everybody who we played this year has had several players, sometimes even four starters that come out of the portal. I miscalculated some things that I thought some guys would be returning that decided to further their careers doing something else. And I had to be mentally prepared for that. …
"We've always been able to anticipate when we are going to lose someone because we deem them worthy of unique or special opportunities. In this case, I think we miscalculated some things that we could have avoided and, for me personally, as the head coach of the program, I feel that I didn't get the memo. I feel like for the most part, we've always been forward thinking. We've always seemed to have strategies that has not allowed us to take the dip."
Had Gainey and Fletcher not been injured, the Seminoles would have far more experience and could have had four transfers in a deeper rotation (also using Caleb Mills and Darin Green Jr.). While Hamilton said some schools are leaning heavily, and in some cases entirely on transfers, he is seeking the right mix. FSU has just one high school signee in forward Taylor Bowen.
"You have some schools now who don't even recruit high school anymore," Hamilton said. "They are only recruiting out of the portal, and it's paying dividends. Wake Forest, for instance. … So there's been a shift in our game. And you see it happening in all sports now.
"Hopefully we can find the right balance where we can take advantage of the opportunities that exist in the portal but still hopefully we can find the right balance. Where we can take advantage of the opportunities that exist in the portal, but we'll still be able to be selective with the high school kids that we bring in."
McLeod could play at Louisville