PowerMizzou – Tiger Tip-Off Preview: South Carolina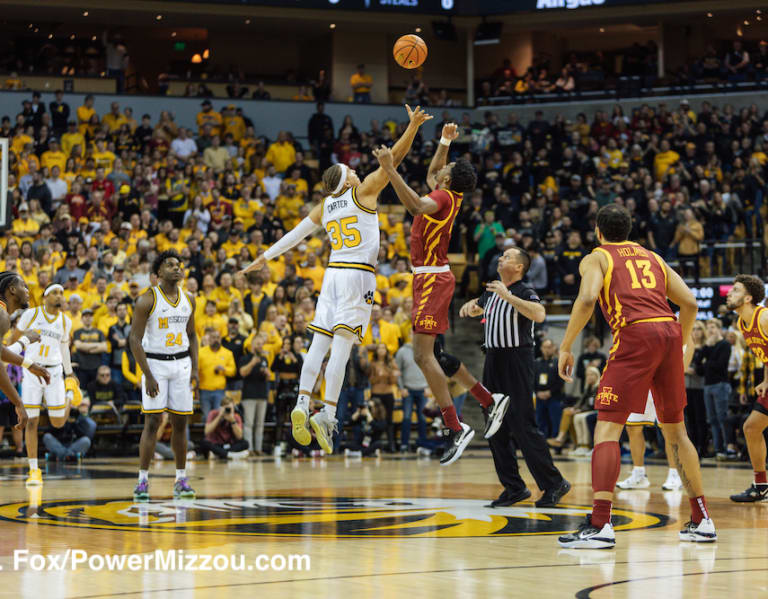 Missouri couldn't get its offense humming against Mississippi State on Wednesday, falling on the road, 63-52. The team will look to get back in sync this week, starting with a home matchup against South Carolina.
The Gamecocks took an upset victory over Kentucky early in the SEC season, defeating the Wildcats on the road on Jan. 10, 71-68. But South Carolina hasn't won another game in conference play, currently on a seven-game losing streak. The Gamecocks' most recent loss, in which Arkansas edged them out, 65-63, left frustrated freshman forward G.G. Jackson to question his team's decision-making in an Instagram Live after the game — Jackson has since apologized for his remarks.
Jackson and first-year head coach Lamont Paris will look to snap South Carolina's losing streak when they visit Mizzou.
TIP TIME INFORMATION
Missouri (17-6, 5-5 SEC) vs. South Carolina (8-15, 1-9)
WHEN: 8 p.m. CT
WHERE: Mizzou Arena, Columbia Missouri
TV: SEC Network
SERIES: Missouri leads, 8-7
KENPOM PREDICTION: Mizzou 84, South Carolina 67
PROJECTED STARTERS
BY THE NUMBERS
BEST LINEUP OF THE LAST 5 OUTINGS (per CBB Analytics)
Sean East II-Isiaih Mosley-DeAndre Gholston-Kobe Brown-Mohamed Diarra
Minutes played: 5
Offensive rating: 123.0
Defensive rating: 61.5
Net rating: +61.5
KEYS TO THE GAME
1. Lock in on G.G. Jackson. Jackson was initially rated as the No. 1 prospect in the 2023 class and was committed to North Carolina. In July, though, he flipped his commitment to South Carolina and reclassified to play this season in his hometown of Columbia, S.C. Jackson immediately became the Gamecocks' best player, leading the team in points and rebounds this year. He's talented enough to leave for the NBA after his freshman season — in his most recent Big Board, Kevin Pelton of The Ringer ranked Jackson as the No. 9 overall prospect of this year's draft class, comparing him to a "nimble Marcus Morris." The rest of South Carolina's roster often isn't good enough to cover for Jackson when he has a rough shooting night. The forward shot 60.0% from the field in the team's win over Kentucky and 47.6% in its loss to Auburn but has shot below 40.0% in all other SEC games this year, all of them losses. Slowing down Jackson will be essential in slowing down the Gamecocks.
2. Box out on defense. South Carolina is one of the worst shooting teams in the nation with an effective field goal percentage (which counts 3-pointers as 1.5 field goals made to reflect their added value) of 46.0%. Senior guard Chico Carter Jr. is the only above-average shooter from distance, making 48.3% of his triples. The number of bricks the Gamecocks lay leave ample opportunities for offensive rebounds and second-chance points. According to KenPom, South Carolina has secured 33.3% of available offensive rebounds, which ranks 49th in the country. The team shouldn't be able to keep pace with the Tigers' offense, but Mizzou will need to limit the number of extra chances it gives away on the boards.
3. Get to the rim. The Gamecocks have allowed opponents to connect on 53.9% of their 2-pointers this season, making them the 323rd-worst team at defending the interior. Paris has tried to curtail that issue by inserting 7-foot senior forward Josh Gray into the starting lineup and bumping his minutes up. Gray is currently rejecting shots on 6.8% of possessions, the highest rate on the team. But Gray also commits 6.4 fouls per 40 minutes, opening the door for Missouri to get to the free throw line regularly. The Tigers are the seventh-best shooting team inside the arc, knocking down 57.4% of their 2s. They shouldn't hesitate to attack the basket on Tuesday.
Everyone on here already has insurance (or they should). Everyone on here also cheers for the Tigers (or they should). In college sports the hot button issue is NIL. A school can no longer compete the way they did just a few short years ago without a robust NIL collective. In our economy, the hot button issue is inflation. Here's your opportunity to see about saving money on something that the state requires you to have on your car and your lender requires you to have on your house. Oh and by the way, just a quote from James's office will get a donation on your behalf to Every True Tiger Foundation, one of Mizzou's NIL initiatives. Blink if you like saving money. Blink twice if you want to do everything you can to position your favorite college program to be as competitive in the SEC as possible. Give James's office a call at 314-961-4800 or get a quote online at carltoninsurance.net.
"If your insurance costs a leg and an arm, call James Carlton State Farm."