PowerMizzou – Tiger Tip-Off Preview: Arkansas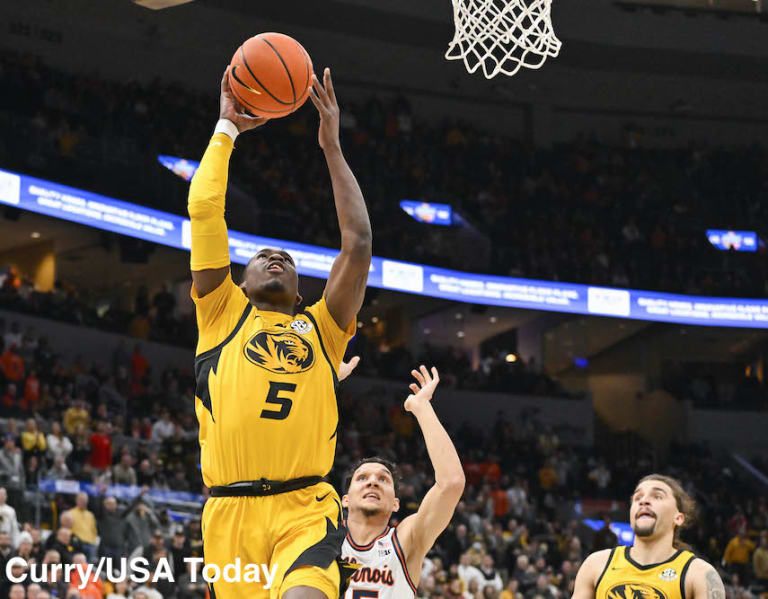 Mizzou got off to SEC play on the right foot, taking down No. 19 Kentucky in its conference opener on Dec. 28. The win earned the Tigers a spot in the AP Top 25 poll for the first time in nearly two years, debuting at No. 20. The team now heads out to take on another ranked team in No. 13 Arkansas.
The Razorbacks have had a strong start to the season, with their only losses coming against Creighton in the Maui Invitational, who was ranked No. 10 at the time, and LSU in last week's SEC opener. It's one of the program's most talented teams in history, with head coach Eric Musselman bringing in the No. 2 recruiting class in the nation. However, Arkansas has seen a few starters go down due to injury and could be vulnerable going into its matchup with Missouri.
Head coach Dennis Gates knows his team will still need to be well-prepared to come out with a fourth-straight victory.
"I mean, that's a great program. Coach Mus does a great job. Their crowd is an unbelievable crowd and they have done it over a long period of time," Gates said on the College Hoops Today podcast. "I was a young assistant at Nevada when Coach Mus was the head coach for Reno Bighorns in the (NBA) G League. So I've seen him and known him for some time, I respect everything that he's done and everything that he will do."
TIP TIME INFORMATION
No. 20 Missouri (12-1, 1-0 SEC) at No. 13 Arkansas (11-2, 0-1)
WHEN: 7:30 p.m.
WHERE: Bud Walton Arena, Fayetteville, Arkansas
TV: SEC Network
SERIES: Arkansas leads, 32-26
KENPOM PREDICTION: Arkansas 84, Missouri 76
PROJECTED STARTERS
BY THE NUMBERS
KEYS TO THE GAME
1. Pack in the paint. One of Mizzou's biggest tasks in its SEC opener was to run Kentucky off the 3-point line, as the Wildcats were one of the best shooting teams in the country. The Tigers will need to do the opposite against Arkansas, though. The Razorbacks currently boast the second-best field goal percentage inside the arc in the SEC, trailing only Missouri, connecting on 55.5% of their 2-pointers. The Tigers have only gone up against one team this season that's better than Arkansas in the interior — Illinois has connected on 58.1% of its 2s, which ranks 11th in the country. The Fighting Illini went 18-31 inside against Mizzou in the Braggin' Rights game and likely would've been more competitive had they not shot just 22.6% from deep. The Razorbacks shoot just 30.0% from outside as a team and rarely pull up from distance. The Tigers' defense has held opponents to 49.4% on two-pointers this year, a few tenths of a percentage point below the national average. They'll likely need to be above average against Arkansas.
2. Run, run, run as fast as you can. Kentucky tried and failed to keep up with Mizzou's pace in the conference opener last week. Arkansas has personnel better equipped to match the Tigers' speed — according to KenPom, Missouri is 30th in adjusted tempo while the Razorbacks are 37th. Arkansas' depth has been depleted, though, with sophomore forward Trevon Brazile out for the rest of the season and freshman guard Nick Smith Jr. out indefinitely with knee injuries. In the Razorbacks' SEC-opening loss to LSU, junior guards Ricky Council IV and Davonte Davis and freshman guard Anthony Black never came out of the game, each playing a full 40 minutes. Musselman brought just three players off the bench, playing them 12 minutes combined. Gates often goes much deeper into his rotations to keep his players fresh. By speeding Arkansas up, the Tigers could wear the team down late in the game.
3. Win the turnover battle. Both teams rank in the top 10 in turnovers forced per possession but also rank in the top 100 in turnovers allowed per possession according to KenPom. Mizzou has a slight edge in both regards and could exploit the Razorbacks as they did Illinois. The Fighting Illini's guards were largely freshmen who hadn't experienced the type of pressure the Tigers threw at them — Missouri finished the night with 13 steals. Black, Arkansas' freshman point guard, currently leads the team with 3.7 assists per game but also coughs the ball up a team-high 2.8 times per game. With few options to give him a breather, Black could have a hard time taking care of the ball.
Everyone on here already has insurance (or they should). Everyone on here also cheers for the Tigers (or they should). In college sports the hot button issue is NIL. A school can no longer compete the way they did just a few short years ago without a robust NIL collective. In our economy, the hot button issue is inflation. Here's your opportunity to see about saving money on something that the state requires you to have on your car and your lender requires you to have on your house. Oh and by the way, just a quote from James's office will get a donation on your behalf to Every True Tiger Foundation, one of Mizzou's NIL initiatives. Blink if you like saving money. Blink twice if you want to do everything you can to position your favorite college program to be as competitive in the SEC as possible. Give James's office a call at 314-961-4800 or get a quote online at carltoninsurance.net.
"If your insurance costs a leg and an arm, call James Carlton State Farm."