PowerMizzou – Stats that stood out against Mississippi State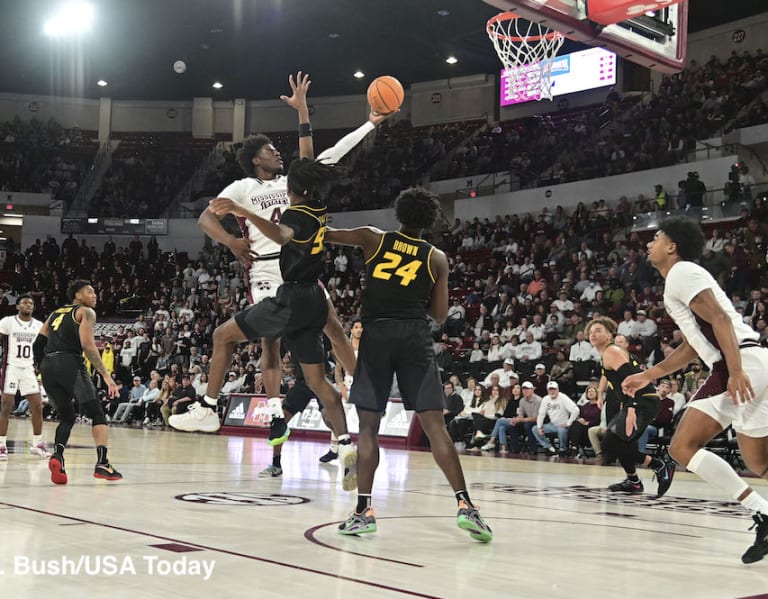 Missouri's shooting splits have fluctuated between hot and cold over its last few games. The team had a rough night on Saturday in a 63-52 road loss to Mississippi State, shooting 32.0% from the field and 26.1% on 3-pointers.
The difference for the Tigers is often decided by whether the team is playing at home or away. When playing inside Mizzou Arena this season, according to CBB Analytics, MU is shooting 73.8% at the rim, 44.9% in the paint, 33.7% on mid-range jumpers, 36.8% on above-the-break 3s and 33.3% on corner 3-pointers. When playing on the road (the team's neutral-site games against UCF and Illinois excluded), Missouri's percentages drop to 63.7% at the rim, 29.5% in the paint, 31.0% on ATB triples and 22.5% on corner treys. Mid-rangers are the only shot that improves for the team, going in at a 37.1% clip.
Another dividing line for Mizzou has been how early or late in the shot clock it's able to get a field goal attempt off. When there are at least 15 seconds left in the possession, the Tigers shoot 71.6% at the rim, 42.9% in the paint, 38.6% on mid-range jumpers, 36.2% on ATB 3s and 30.1% on corner 3-pointers. When there is a maximum of 15 seconds left on the clock, the percentages fall to 65.0% at the rim, 41.9% in the paint, 31.7% on mid-rangers and 35.4% on ATB triples. Corner 3s are the only shots that improve, falling in 33.8% of the time.
The Bulldogs took advantage of their home court, but also did a good job of slowing the Tigers down and keeping them from getting a shot off in a hurry. Missouri was 10-29 from the field with 15 seconds or more on the shot clock against MSU and 6-22 with 15 seconds or less.
Mizzou head coach Dennis Gates played 22 different lineup combinations on Saturday — just five had an effective field goal percentage (which accounts for the added value of 3-pointers) that was higher than 50%. For the Tigers to end the year with more road wins, they'll have to find ways to get the ball in the hoop more often.
Everyone on here already has insurance (or they should). Everyone on here also cheers for the Tigers (or they should). In college sports the hot button issue is NIL. A school can no longer compete the way they did just a few short years ago without a robust NIL collective. In our economy, the hot button issue is inflation. Here's your opportunity to see about saving money on something that the state requires you to have on your car and your lender requires you to have on your house. Oh and by the way, just a quote from James's office will get a donation on your behalf to Every True Tiger Foundation, one of Mizzou's NIL initiatives. Blink if you like saving money. Blink twice if you want to do everything you can to position your favorite college program to be as competitive in the SEC as possible. Give James's office a call at 314-961-4800 or get a quote online at carltoninsurance.net.
"If your insurance costs a leg and an arm, call James Carlton State Farm."