PowerMizzou – It's full speed ahead all the time for Mizzou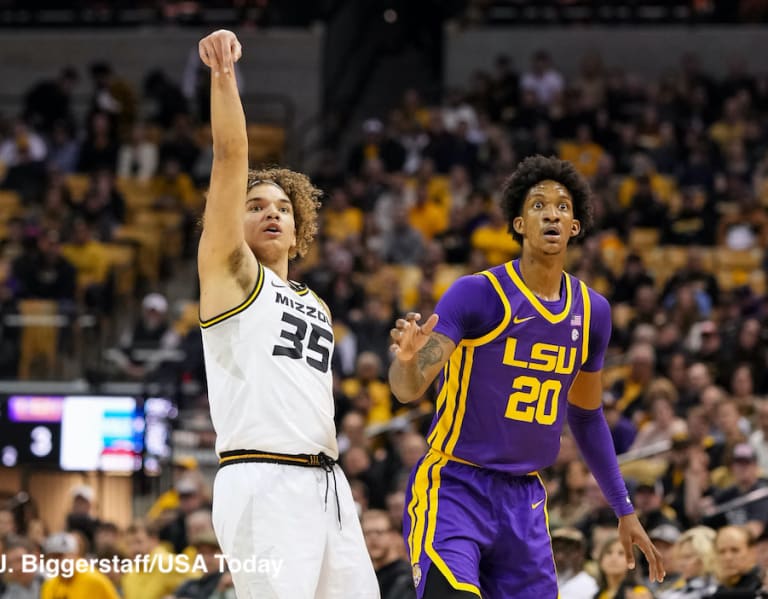 With a little more than 18 minutes left and a 13-point lead, Kobe Brown grabbed a rebound of an LSU miss. He turned, saw Noah Carter streaking down the opposite end of the court and flung a 70-foot "F It, Noah down there somewhere" pass. Carter caught it cutting across the lane, took maybe one peek in the general direction of the basket and tossed the ball over his right shoulder at full speed. It went off the glass and in.
It's been that kind of year. And Missouri is that kind of team.
It was one basket among 33 in an 87-77 win over LSU, Mizzou's 17th of the season. But it was the one that capsulized the way this team plays.
"The way we play as an offense, we look to, you know, pitch ahead as much as we can," Carter said. "Kobe saw me, I was sprinting like a wide receiver. I was just happy I made it."
If you don't watch this team a whole lot, your first experience is going to be jarring. There are going to be multiple times a game you say "No, no, no, no, YES!" There are shots—multiple—you think are bad shots. They play with reckless abandon.
But it works.
Take D'Moi Hodge. During a four-game stretch between January 11 and January 21, Hodge attempted 25 three-pointers. He made just four of them. Missouri lost three of the four games. Hodge's solution? Keep shooting.
Over the next two games, he was 11-21 from three-point range, averaged 20.5 points and Missouri won twice by double digits. I asked Hodge on Friday how he determines if a shot is a good shot.
"If I can get it off," he said.
Yep, it's that kind of team.
"I told them to keep shooting," Dennis Gates said when asked what turned a team that went 3-for-28 against Alabama into one that has gone 43-for-87 over a three-game winning streak since.
Missouri is on pace to set the school record for three-point attempts in a season. The Tigers took 834 in the 2001-02 season. The Tigers played 36 games that year as they made a run to the Elite Eight before running out of gas against Oklahoma. This year, Mizzou is averaging 26.1 three-point attempts per game. Assuming at least one game in the SEC Tournament and one postseason game, they'll fire up 869 triples if they maintain that pace.
It's not just on the offensive end that this team likes to gamble. Whether in zone or man-to-man, Tiger defenders are flying at shooters and in passing lanes non-stop. Sure, it might leave a gap, but they're counting on one of the other four guys to help out. Or maybe they just figure they'll score so much it doesn't matter if they give up a few open shots here and there. Kobe Brown said after a 78-61 win over Iowa State last weekend that he got some easy rebounds because he thought Iowa State just assumed the ball was going in every time the Tigers shot it.
Missouri entered the game ninth in the country in scoring offense, 15th in assists per game and 17th in assist to turnover ratio. They're also 15th in the country in effective field goal percentage, 13th in fast break points and fifth in adjusted offensive efficiency according to Ken Pomeroy. They are the streakiest team in the country, both putting together and surrendering more 10-0 scoring runs than anybody in America.
It all adds up to the basketball equivalent of sitting down for a ride on your favorite roller coaster without being completely sure that safety harness actually latched.
"No hesitation," Gates said. "I will sub you out if I think you're not shooting the ball that you should shoot. That's how confident I want to play."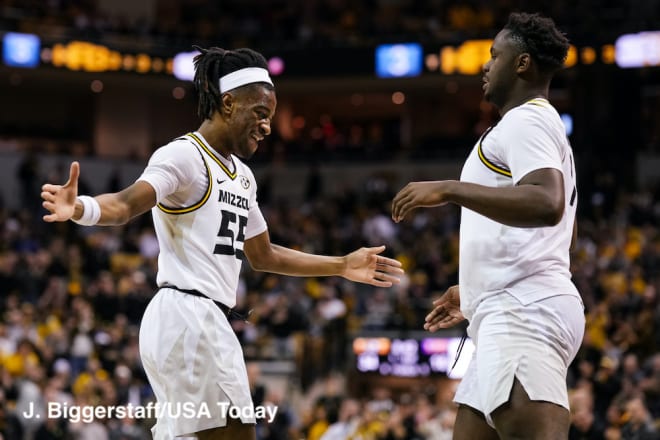 He's talked frequently this season about trusting his players even during their infrequent struggles. And why not? The Tigers have seven players who are averaging at least eight points a game. That's not happened since at least 1958, as far back as we could go in the records. You never know for sure where the offensive avalanche is coming from, but it's almost always coming from somewhere. That so many of his players have embraced this wide open style of play in his first season is why Gates' name will be mentioned for conference, if not national, coach of the year honors.
"I would say like June and July, last summer, it was like, okay, we had to get used to it, we weren't so good at it," Brown said after a 26-point, 10-for-11 night from the floor. "Now it's like second nature. We want to get the ball as fast as we can, score as fast as we can.
"That's all we know now."
The ceiling for this team is a Final Four. Yes, really. They've already beaten some teams as good as those they'll see in the first two weeks of the NCAA Tournament. If they get the right matchups and the shots are falling like they did on Wednesday, somebody's going to have an absolute nightmare of a time playing this team in March. Maybe multiple somebodies.
The floor is a first round loss to almost anybody in the field. The Tigers don't defend particularly well, they rebound even more poorly than that and because of those two things they tend to let most teams hang around a little longer than you'd like. It's not hard to see the season ending in a 92-90 loss because Missouri ran into a team that hit one more shot than the Tigers did that day.
Far more often than not—17 times in 22 games now—Dennis Gates has guided this coaster back into the station safely. How long the high-speed adventure continues and just where it ends up remains to be seen.
"It's hard for me to turn off that valve," Gates said. "I want our guys to play at a pace. I want them to play with their instincts, no thinking and just go out and give their very best."
Buckle up, because it's going to be one hell of a fun ride.
Everyone on here already has insurance (or they should). Everyone on here also cheers for the Tigers (or they should). In college sports the hot button issue is NIL. A school can no longer compete the way they did just a few short years ago without a robust NIL collective. In our economy, the hot button issue is inflation. Here's your opportunity to see about saving money on something that the state requires you to have on your car and your lender requires you to have on your house. Oh and by the way, just a quote from James's office will get a donation on your behalf to Every True Tiger Foundation, one of Mizzou's NIL initiatives. Blink if you like saving money. Blink twice if you want to do everything you can to position your favorite college program to be as competitive in the SEC as possible. Give James's office a call at 314-961-4800 or get a quote online at carltoninsurance.net.
"If your insurance costs a leg and an arm, call James Carlton State Farm."