Panther-lair – Staff picks: Pitt takes on Miami in key ACC showdown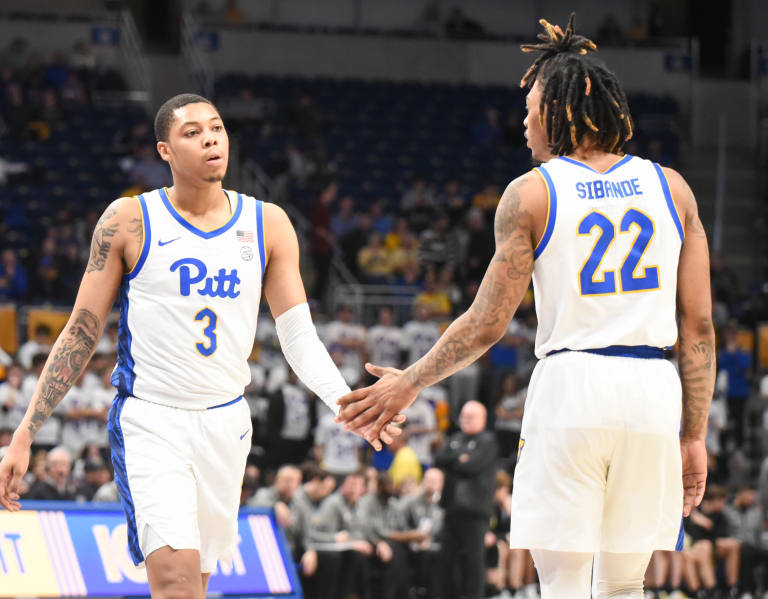 Pitt is getting set to host perhaps its biggest home game in recent memory. No. 20 Miami comes to the Petersen Events Center today for a 4:00 p.m. tip. Both teams are near the top of the ACC standings at the halfway point of conference play, and this is a pivotal game for positioning.
Miami is under the direction of veteran coach Jim Larranaga. He has been leading the Hurricanes since 2011 and is coming off of an Elite 8 appearance last year. Miami has a balanced scoring team that features four players averaging double figures. They are led by Isaiah Wong, who has started 95 games in his career with the Hurricanes. He is averaging 16.3 points per game. Miami also has perhaps the league's best newcomer this season as Norchad Omier has stepped in down low and provided an immediate presence. The undersized 6'7″ forward averages a double double.
Pitt has been one of the more surprising teams in the league this season. After being picked to finish 14th in the preseason, the Panthers are right in the thick of the ACC race at the midway point of conference play. Pitt had a memorable game on Wednesday, as they held off Wake Forest by 2 points. Along the way Pitt made 18 three-pointers in the game led by 24 points from Blake Hinson.
These teams mirror each other in a lot of ways. Both teams are guard driven and have received instant contributions from the transfer portal. Despite Miami being the ranked team here, this game is virtually considered a toss-up by the odds makers.
Can Pitt grab another signature home win against a ranked team? The Panther-Lair.com staff gives their picks.
Stephen Gertz (15-6): It makes me nervous that the Pittsburgh Panthers needed a program record 18 three-pointers to beat the Wake Forest Demon Deacons; they needed every single one of them. A better team in the Miami Hurricanes is now in town and I would wager that Pitt is not hitting 18 triples today. I would be surprised if they make 12, which is about three more than their season average. Miami is not a special team on the defense, but they certainly are on the offensive side of the ball. Led by Isaiah Wong – the one guard I would put ahead of Jamarius Burton in the ACC – they come at you in waves and will constantly be pressuring a Panthers defense that has not been good for a full 40 minutes of late. The Hurricanes crash the glass on the offensive end and are extremely efficient inside the arc and at the charity stripe. There is a path for Pitt to win. Mainly, really good performances from everybody and avoiding foul trouble. But it just seems like they have less margin for error.
Prediction: Miami 78, Pitt 74
Houston Wilson (14-7): Pitt is hosting another big game today against Miami in a game that if Pitt wins can, it will boost their NCAA resume even more. It won't come easy though as Miami has been one of the more consistent ACC teams this year. Miami is led by Isaiah Wong who is one of the top guards in the league averaging 16.3 points per game. Pitt will have to limit him but will also have to account for three other guys who average double digit points per game in Jordan Miller, Norchad Omier and Nijel Pack. Obviously if Pitt shoots the way they did against Wake, it will be hard for them to lose. I think this will be a one possession game under a minute left with Pitt finding a way to win it.
Prediction: Pitt 82, Miami 81
Matt Steinbrink (10-11): The 2003 Big East championship team is back in attendance for this one, and it is fitting because this team is the best one this program has seen in years. It has been 20 years since we have seen that team, which is hard to believe. This is another big one for the Panthers because they were able to beat Wake. Can they continue the shooting touch and leap Miami in the standings? This Miami team poses a legit challenge. They are built very similarly to Pitt. The point guards are comparable, Wong and Burton basically cancel each other out, and Miler and Hinson are almost carbon copies. Miami has the advantage at center, while Pitt has the edge off the bench with Nike Sibande. Both teams shot very well last time out, so we will see if either can maintain it. My guess is, both will shoot it closer to their averages. If Pitt can keep Omier and the Hurricanes off of the offensive glass, they should be in good shape. Rebounding and scoring droughts have been issues for the Panthers all season long. This should be a great one, and I could see it coming down to the last shot. This one could go either way, but Miami may just prove to have just one more advantage today.
Prediction: Miami 76, Pitt 73
Jim Hammett (13-8): This line is basically a pick 'em today, as the game features two pretty evenly matched teams. I can see this game taking a similar path to Wednesday's game with Wake Forest. I'm not sure Pitt can match the 18 3-pointers, but I do think it'll be a high-tempo offensive game that comes down to the wire. In some recent games, we have seen Jamarius Burton take a secondary role in the scoring department, but in turn become more of a facilitator. I'm expecting Burton to have a big scoring game. He's risen to the occasion and played some of his best basketball in Pitt's biggest games this year, and I think that happens again today.
Prediction: Pitt 75, Miami 72
Chris Peak (14-7): This is some kind of matchup. Pitt and Miami have a lot in common: They're both 7-3 in ACC play and they both are led by talented veteran backcourts. The Hurricanes lead the ACC in field goal percentage – they're shooting 47.8% as a team – but their average scoring output is only a little ahead of Pitt, on account of the Panthers making 40 more three-point shots than Miami so far this season. Pitt will continue firing three's, but this game really could – and likely will – come down to the Panthers' ability to defend the Hurricanes. Miami guard Isaiah Wong has a couple 20-point games against Pitt in his career, but he scored just four points on 2-of-10 shooting in the Hurricanes' win over the Panthers last February. I really don't know what to expect here; I can't really predict that Pitt will set another record for three's in a game, but I'm going to give a slight advantage to Pitt playing at home (and Miami being on a weird win-one/lose-one pattern over the last seven games, which would make the Hurricanes due for a loss in this game).
Prediction: Pitt 77, Miami 76