Panther-lair – Pitt comes back to knock out No. 20 Miami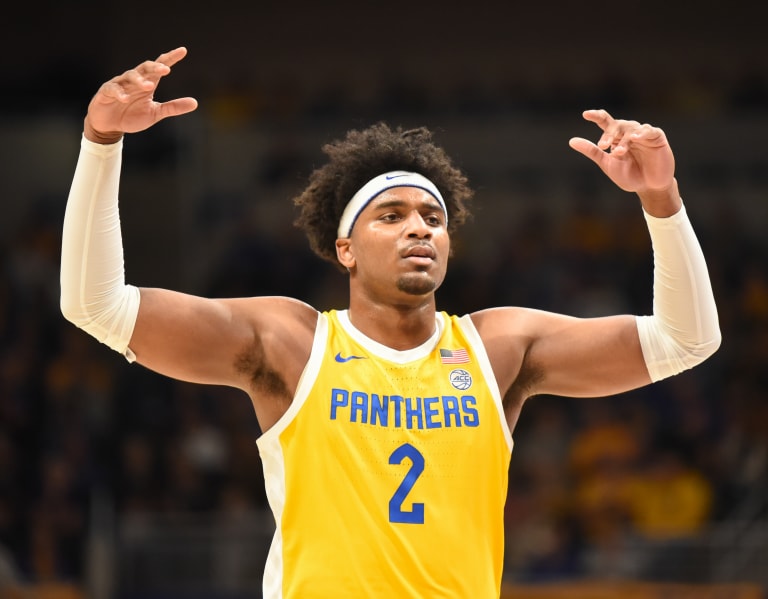 Pitt started the second half of its ACC schedule with one of its toughest challenges yet, and the Panthers responded with one of their biggest wins yet, knocking off No. 20 Miami 71-68 in front of an announced sellout crowd at the Petersen Events Center.
Things got off to a surprisingly slow start for both teams. Pitt and Miami entered Saturday as two of the ACC's top scoring squads, but neither team made a basket for the first two minutes and when the game went to commercial for the first media timeout at 15:48, the score was 6-2 in Pitt's advantage.
Five minutes later, it was more of the same, with the Panthers leading 12-9 at the under-12 timeout. But the Hurricanes' offense started breaking through: spurred by offensive struggles for the home team, Miami outscored Pitt 21-8 over the next nine minutes.
Facing pressure from an active defense, the Panthers couldn't get anything going in that stretch, making just three baskets in nine minutes and rarely producing any multi-shot possessions from their misses. In the final two minutes of the half, though, Pitt battled back, with three free throws from Greg Elliott, a drive from Jamarius Burton and a buzzer-beating three from Blake Hinson cutting Miami's lead to five at halftime.
With 10 made field goals and seven turnovers, the Panthers had their work cut out for them in the final 20 minutes.
The problem was that Pitt's defense lagged after the break, as Miami made seven of its first 10 attempts from the floor, including a pair of wide-open three's by Nijel Pack that gave the Hurricanes a 51-40 lead at the 13:00 mark.
But just when it seemed like Miami was going to pull away, the Panthers battled back. Burton hit a three and finished a drive to cut the lead to six. Then Hinson answered a Miami bucket with a three to cut it to five and Elliott hit a three of his own to answer another Miami basket to make it four.
The chipping away continued through the under-4 timeout after a Burton jumper pushed the score to 64-60 in Miami's favor. Coming out of the timeout, though, Burton was called for an offensive foul and Miami answered at the other end with an Anthony Miller drive to extend the lead to six – an advantage that grew when Wooga Poplar turned a missed jumper by Burton into a dunk for a 68-60 lead.
Pitt wasn't done, though. Federiko Federiko made the lead six with an and-1 basket – he missed the free throw – and then Hinson turned a Burton defensive rebound into a three-point shot that had the Panthers within three at 68-65 with 84 seconds left to play.
Following a Pitt timeout, Miami took the ball, but Burton grabbed a defensive rebound and passed ahead to Nelly Cummings, who finished the play with a jump shot as the clock ticked under one minute.
28 seconds later, the Petersen Events Center exploded when a Burton steal led to a Hinson put-back basket for the lead. And the explosion got even bigger on Miami's next possession, as Burton pulled the ball away from Isaiah Wong. Things got dicey after Elliott's ensuing inbounds pass touched the line, but he made up for it by converting both ends of a one-and-one to set the final.
Hinson finished with a game-high 21 points on 8-of-18 shooting and 5-of-11 from three, while Burton put up a double-double with 19 points and 10 rebounds in addition to seven assists.
The win improved Pitt's overall record on the season to 15-7 with an 8-3 mark in conference play. The Panthers will be back in action Wednesday night with a 7 pm tipoff at North Carolina.