Orangebloods – Rock Chalk Trash Talk: Texas enters the Phog, takes on top-10 Kansas
Game time: Monday, Feb 6, 8pm (ESPN)
Sponsorship. 
Seth Fowler graduated from Texas in 1998. Since 2004, he has been helping home buyers and sellers in the DFW Metroplex. Whether new construction, existing homes, investment property, or land, he is your Real Estate Sherpa – guiding you through the process, making it an enjoyable experience. Based in Tarrant County, however, he will help connect you with a quality Realtor anywhere in Texas, the United States, or in the world. When looking to purchase or sell real estate in this new market, call Seth at 817.980.6636.
Primer. 
Texas' biggest win last year and one of the first real signature wins of the former era was over the eventual national champion Kansas when they came to Austin for their last-ever visit to the Frank Erwin Center. Courtney Ramey locked up first-team all-American Ochai Agbaji, holding him to just 11 points on 4/7 from the field, while Timmy Allen put up 24 points as Texas pulled the 79-76 upset over the then sixth-ranked Jayhawks.
Things are different this year. Texas is not a fringe top-25 team trying to pull off an upset against a team that is head-and-shoulders above them. While not tantamount in program prestige, as the Jayhawks are the gold standard in college basketball, this year's Texas and Kansas teams are peers. It's no longer hyperbole to say this about the current roster.
As of right now, both Texas and Kansas are roughly two-seeds in the NCAA Tournament. While this probably won't stick considering the volatility of the conference, the point is that these two are Elite-Eight, Final-Four-level teams if things break right for them and they get some favorable matchups in March Madness.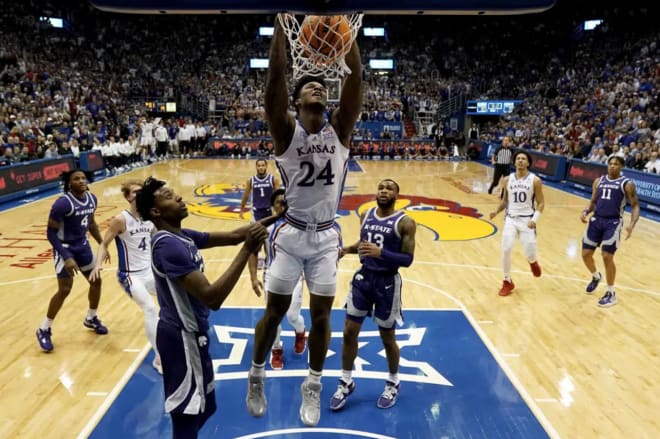 Kansas Offense. 
Offensively, Denton-Guyer's own Jalen Wilson leads the way as one of the premier players in the entire sport of college basketball. He averages a blistering 21.5 points, 8.6 boards, and 2.5 assists per game, leading the team in the first two categories.
I talked some with my buddy Shay Wildeboor of JayhawkSlant of the Rivals Network about some of the details of the Kansas offense.
Of the most interesting things he told me, one of which is that the first five offensive possessions for Kansas are scripted pregame, a way to get the offense going early. By getting their guys some open looks early on, they can more easily build confidence. Much of KU's offense is hinged on the point that Self "absolutely hates when the ball sticks and doesn't move," so ball movement is the name of the game.
Despite Kansas' record and recognition throughout the college basketball multiverse, their offense has had some struggles recently. Despite their identity as a team that moves the ball quite a bit, they have become somewhat one-dimensional in scoring through star Jalen Wilson and relying a bit too much on his abilities instead of taking a more balanced approach to offensive production.
Kansas' second option on offense is true freshman shooting sensation Gradey Dick, a lanky, 6'9 wing who can shoot the lights out when he gets hot, averaging 14.2 points per on 42% from deep on the season (though his numbers in conference aren't as impressive).
Austin Westlake's KJ Adams Jr. is the Jayhawks' version of Dillon Mitchell, though more polished as he is a year older. He puts up 10.4 points, two assists, and 4.2 rebounds per game, tacking a block and a steal on for good measure. He's a spark-plug with elite explosive athleticism; he can jump out of the gym. He's a high-effort cutter and a good lob option for the Jayhawks, as well as showing a bit of defensive prowess and rim protection.
Dajuan Harris is the distributor for the Jayhawks, who averages 7.4 points and 6.2 assists per. Harris is a quick, cerebral guard who passes the ball really well, sporting better than a 3:1 assist-to-turnover ratio as the driving engine behind the team. Their other guard is a face you might recognize from Texas Tech in Kevin McCullar Jr., a 6'6, 210-lbs athlete who can guard essentially all five positions. The team's fourth-leading scorer (10.3 points) provides a great deal of upside on both ends.
Kansas Defense. 
Bill Self emphasizes defense over everything else – that's his bottom line. Occasionally, he may sprinkle in a zone or a triangle-and-two, but for almost every possession of every game, KU is running a switching zone. They also like to trap when a pass goes into the post, doubling and trying to force turnovers or impossible shots. This is the kind of thing they could use to prevent a guy like Christian Bishop, who went off versus Kansas State, from getting in a groove and using footwork to score down low. When there are two guys who are taller defending you in the post, the footwork isn't going to matter that much.
Kansas' best defender is the earlier mentioned Kevin McCullar Jr., who was an anchor last season on an elite Texas Tech defense along with Bryson Williams and Terrence Shannon Jr. His 6'6 frame allows him to guard 1-4 comfortably, and probably the occasional small-ball five. He's got length and quickness, sticking out hands in passing lanes to get deflections as well as outright stealing the ball.
Kansas is fourth in the Big XII in steals per game at 7.3 per, but overall, only force about 12 turnovers per game in conference play, something that greatly benefits the Longhorns, as they take good care of the ball in general. Forcing Kansas into miscues and getting deflections that lead to run-outs are going to be important in case Texas struggles in its half-court offense.
(As a side note, it's pretty crazy how close the numbers are as far as conference points scored vs. points allowed. For example, Kansas is 18-5 (6-4), are a top-10 team in the nation, yet the average score to a KU conference game this year has been Opponent 72.3, Kansas 72.5. Texas averages 75 and gives up 72.7. This conference is insanely stacked).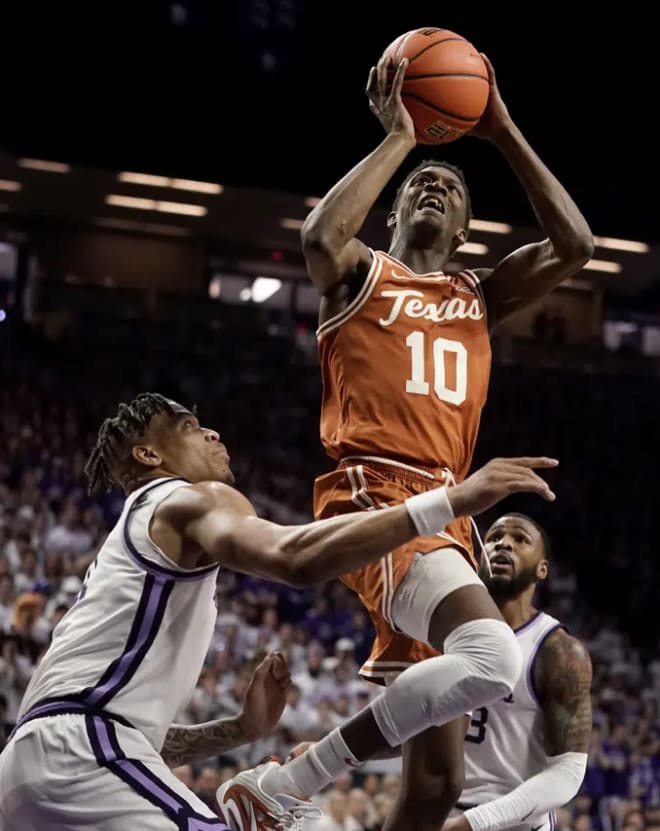 What to watch for. 
• Rebounding.
Kansas is one of the better rebounding teams in the conference so far in the Big XII; they are second in overall rebounds per game (32.9) and first in defensive rebounds per game (24.3). This is a major area where Kansas has a clear advantage over Texas, who has struggled rebounding the ball lately – they are eighth of 10 in the conference in offensive rebounds per game (7.9), fifth in defensive rebounding (22.6), and sixth in total rebounds (30.5).
Texas isn't a big team. We know this, we've discussed this every week of the season and every week leading up to it. It hasn't killed them in every game so far, but Kansas is the type of team that can exploit this weakness because of their advantage at HC with Bill Self, who is an elite coach that finds weaknesses like this and closes in, kind of like me with the bridesmaids.
Kansas has outstanding athletic personnel on the boards, with Jalen Wilson averaging 8.6 rebounds, Kevin McCullar, 7.5, Gradey Dick, 5.3, and KJ Adams, 4.1. Four of their starters are plus rebounders, while Texas struggles to find a go-to guy on the boards sometimes.
Guys like Christian Bishop and Brock Cunningham are probably going to get extra minutes due to what I'm assuming will be relentlessly dogging Texas on the boards. Tenacity is a buzz word, but helpful in this instance. This will be one of the more physical games they'll play this year, and that's saying something coming out of the Big XII.
• Turnover battle.
Kansas averages in conference play more assists than Texas does, but also more turnovers, by a slight margin. The Jayhawks assist on 15.0 baskets per game (third), while Texas gets 13.3 (sixth); Kansas coughs it up 12.8 times per game, while Texas does so just 12.0 times per.
So neither team is particularly elite or overly terrible in this facet of the game. In fact, they're pretty close to square in this category, meaning whoever gets the advantage here could take control of the game. Texas' best passers are Marcus Carr, the engine who runs the entire Texas offense (3.9 assists), or Timmy Allen, who initiates offense from the elbow occasionally or takes the ball down the floor (2.4 assists). Point guard Tyrese Hunter also averages 2.4 assists.
For Kansas, Dajuan Harris runs everything, averaging an impressive 5.5 dimes per Big XII game. However, outside of Harris, the Hawks really only have McCullar (2.1 assists) who is much more of a defensive player than a distributor at guard, as well as Jalen Wilson, who dishes 2.1 per. I discussed his stats previously in a national context, but in conference, Harris has a 5.5 to 2.1 assist-to-turnover ratio in conference, one of the best at his position easily.
Point guard play is going to be paramount in this game, as I think Kansas has the advantage on the front end with Wilson, Dick, and Adams, but also believe Texas may have the superior guard play.
• Kansas perimeter shooters vs. Texas perimeter defense.
I referenced earlier on in the piece how well Texas has played perimeter defense as of late, shutting down both Kansas State and Baylor back-to-back by stifling their deep shooting. The 'Horns are going to get another dose of pure shooters on Monday night.
Gradey Dick, though not shooting nearly as well as he was pre-conference play (42% on 5.7 attempts to 35.7% on 5.6 in the Big XII), is still an absolute dormant volcano that is ready to explode at any minute. Dick is the kind of guy to hit you for seven threes on 11 attempts if he's feeling it, and if Texas allows him to get into a shooting rhythm, it's going to be a long night.
Jalen Wilson is taking an impressive 7.4 three-point attempts per game, but hitting at a pretty decent clip despite that volume. He shoots 36.5%, hitting an average of 2.7 every game. Dajuan Harris has been easily their best deep shooter in conference at 42% on 3.1 takes, which was interesting, as he was taking fewer three attempts and hitting at a lower clip. His shooting improved in conference play, which is atypical.
Texas' offense weapons from three range from Marcus Carr all the way to Marcus Carr, with a bit of Brock Cunningham sprinkled in. Texas is hitting at a pretty poor 32.4% rate from deep, which has them ranked sixth in the conference overall. It will be key to hit some situational threes if they come up, because we all know that three-point shootouts are not Texas' game. Sometimes, you gotta get lucky – when Texas is shooting well from deep, they can beat anyone in the country.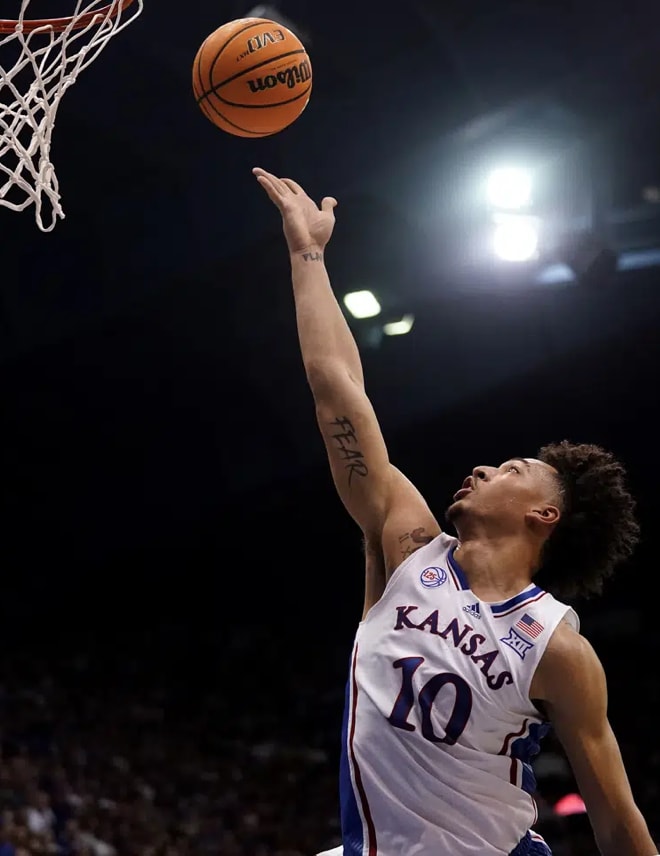 Prediction. 
It's Phog Allen. It's not just the crowd noise and the environment of intimidation, but there has to be some sort of mystical force that protects the Jayhawks there because it is HARD to win in Lawrence.
Still, this Texas team is so resilient. They absolutely have the talent to win tomorrow night, and the energy with which they play is palpable. It's going to come down to stopping Gradey Dick, in my opinion. Jalen Wilson will get his regardless, but Texas can't allow both he and Dick to go off or it's basically going to be impossible to win.
There is also a bit of a height deficit between Texas and Kansas – look for Ernest Udeh, Zuby Ejiofor, and Zach Clemence to get some more minutes tonight for the Jayhawks. Size will play a role in this one due to the rebounding implications.
All that being said, I have watched this Texas team get better and better in areas that used to kill them all throughout the year. Texas has done an admirable job with its perimeter defense recently, so for this reason, I think they pull it off on the road and stay alone atop the Big XII.
Texas ML (+140) or Texas +3 (-110)