Maize&BlueReview – Women's basketball notebook: key departures make for interesting offseason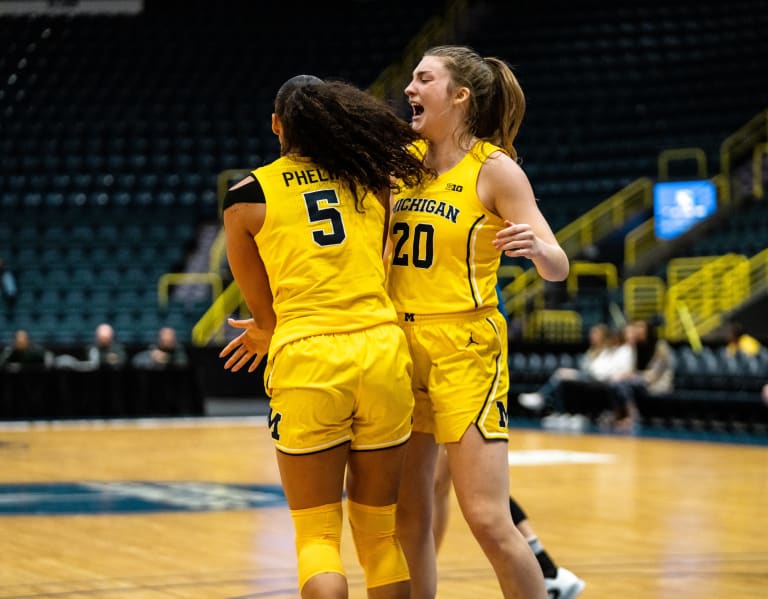 Last offseason, the Michigan women's basketball program suffered one major departure — star forward Naz Hillmon. Her departure left a bit of a hole in the low post for Kim Barnes Arico's team, and although Emily Kiser greatly improved in Hillmon's absence, it was clear she was missed.
This offseason, albeit it's not even two weeks old, is shaping up to be a similar, yet different offseason. Instead of one, big departure, it's trending toward an offseason of numerous departures both from the roster and from the coaching staff.
Out of eligibility
Leigha Brown and Emily Kiser have finished their college basketball careers. They each just completed their fifth seasons in college, and they will move on. Michigan loses two of its top three scorers, but then again, it's unavoidable.
Michelle Sidor transfers to DePaul
Michelle Sidor, a senior guard from New Jersey, entered the transfer portal and committed to DePaul. Sidor played in 31 games and averaged 11.3 minutes per contest as a freshman under Kim Barnes Arico, but an increase in talent resulted in Sidor being buried on the depth chart.
She played in just one game during the 2022-23 season, and she opted to spend her remaining two seasons of eligibility at DePaul.
Coaching departures
In the days since the season's ending, Michigan has lost two coaches from its staff. Assistant coach/recruiting coordinator Erin Batth took the head coaching job at Providence after one season in her position with the Wolverines.
Providence then hired another Michigan assistant coach in Valerie Nainima to the same position. It also hired graduate manager Reyna Frost to be an assistant coach with the Friars, too.
Ari Wiggins enters the transfer portal
The 5-foot-8 sophomore guard announced via social media on Monday that she will enter the transfer portal with two seasons of eligibility remaining. Wiggins played in 37 games over her two-year Michigan career, and she scored 33 total points.
She spent the majority of the season sitting behind star guards Leigha Brown, Laila Phelia and Maddie Nolan.
Maddie Nolan enters the transfer portal
Reports have suggested that senior guard Maddie Nolan has entered her name into the transfer portal. There has yet to be confirmation from Nolan, but the loss would be a huge hit to Michigan's backcourt.
Nolan is best known for her remarkable shooting ability, which earned her the nickname 'Maddie Nylon.' Should Nolan leave, Michigan would lose three of its top four scorers, and the backcourt would be rather unproven.
Laila Phelia will obviously lead the way. Alongside her are soon-to-be juniors Jordan Hobbs and Greta Kampschroeder, who were inconsistent throughout the 2022-23 season.
Sophomore Kate Clarke, and freshmen Taylor Woodson, Macy Brown and Katy Eidle will all have the potential to step into significant roles early in their Michigan careers.
Stay tuned at Maize and Blue Review for more women's basketball updates throughout the offseason.
—
Discuss this article with our community on our premium message boards
Not a subscriber to Maize & Blue Review? Sign up today to gain access to all the latest Michigan intel M&BR has to offer
Follow our staff on Twitter: @JoshHenschke, @Berry_Seth14, @TrevorMcCue, @DennisFithian, @BrockHeilig, @JimScarcelli, @lucasreimink, @JaredHalus
Subscribe to our podcasts: Apple Podcasts, Google Podcasts and Spotify
Check out Maize & Blue Review's video content on YouTube
Follow Maize & Blue Review on social media: Facebook, Twitter, TikTok, and Instagram