Maize&BlueReview – What's next for Michigan football's secondary?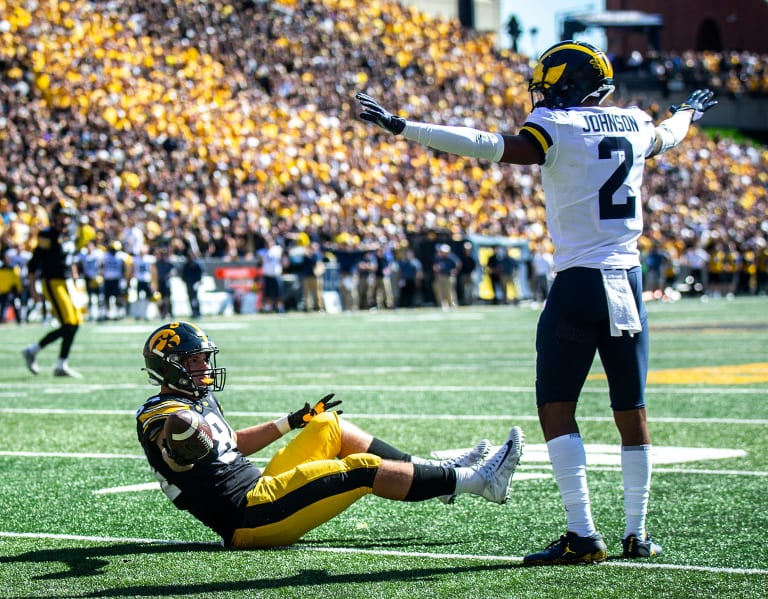 Michigan football has lost two of its starting cornerbacks this offseason with DJ Turner and Gemon Green announcing their intentions to enter the NFL Draft.
The Michigan secondary took a big leap in 2022. Co-defensive coordinator and defensive backs coach Steve Clinkscale helped improve Michigan's pass efficiency to top 30 in the 2021 season and Michigan finished 5th in the country in Clinkscale's second season. Now Michigan must replace the experience of 46 career starts with Turner and Green departing.
We are going to take a look at what options are on the Michigan roster already, what scheme adjustments or position changes they may make, or if Michigan will need to go back to the portal. Before we focus on what Michigan is losing let's focus on what is returning.
CB1 & Subzero Return
Michigan's best cornerback returns for the 2023 season. Michigan's best cornerback in 2022 was Will Johnson. This isn't hyperbole, this isn't a hot take. While Johnson spent a lot of the first half of the season in a CB4 role, he earned more and more snaps throughout the season. By the end of the year, he was getting first team snap share and defending Michigan's opponents' best receivers.
According to PFF, Johnson finished the season has Michigan's highest graded defender overall at 88.2 and in coverage with an 88.9 from PFF. The next closest was Makari Paige with an 81.5 grade. Johnson was second on the team with 3 interceptions behind Rod Moore's 4. Quarterbacks had an NFL rating of only 66.5 when targeting Johnson. Unbelievable season for the freshman, sky is the limit in 2023.
One of the most welcomed surprises of the 2022 season was the success of Mike Sainristil at nickel back. Sainristil made the conversion from WR, and despite playing corner in high school, no one expected Sainristil to not only be serious contributor but arguably one of the most important pieces of the Michigan defense. Sainristil was a top 5 defender for the Wolverines, creating a team high 9 pressures and 2 sacks from the secondary. He was 4th on the team with tackles with 48. In coverage Sainristil was right there with Turner, Green, and Johnson, and was second on the team with 6 pass breakups. A team captain surely again in 2023, Sainristil can either continue to play nickel or potentially slide to the outside.
New Nickel
Which brings us to option #1 for the Michigan defense, moving Mike Sainristil to corner. Keep in mind, defenders rotate so even if Sainristil is CB2, he will still take snaps at nickel, but in the Michigan defense the nickel has a pretty defined role. Whether it is blitzing from the box or playing deep like a third safety, it's not just about coverage. But if Johnson and Sainristil are your two best cover players returning, should they be your two corners?
Both of Michigan's starting safeties, Rod Moore and Makari Paige, return in 2023. One thing Michigan could do if they choose to make Sainristil a corner, is play Rod Moore in the nickel more, similar to how Michigan used Dax Hill in 2021. Moore was third on the team in coverage in 2022, led the team with 4 interceptions, and was able to blitz and create pressure when called upon. He has the talent to adjust his role.
A name to watch here is future redshirt freshman Zeke Berry. Berry was a Rivals250 recruit in the 2022 class, one of the top defenders in the nation playing for California powerhouse De La Salle. He only saw the field a handful of times last season, but that doesn't mean he doesn't have the talent. Berry is part of a series of players Michigan has recruited in the secondary that have speed and power, a perfect DB hybrid to play nickel in Michigan's defense. Berry has a similar skill set to Moore, but with a higher ceiling. He'll have a real chance to earn a big role in this defense this offseason.
Next Man Up
Michigan does not have a lot of experience on the roster at cornerback, but they have a lot of talented depth.
A long list of players is gearing up for the opportunity to earn the starting CB2 role in 2023. Top of the list may be Ja'Den McBurrows. McBurrows has not seen the field much after a late injury in 2021 ended his season and kept him out of 2022. He is strong physical corner who may be the perfect complement to Johnson, but he will need to stay healthy and compete. Kody Jones, much like Berry, is a talented player from the 2022 class that did not see the field often but should not be discounted when it comes to potentially earning a starting role. Same can be said for Myles Pollard.
The Next Will Johnson?
Michigan made two big additions to their 2023 recruiting class late in the cycle with Jyaire Hill and Cameron Calhoun.
While it is rare to see a freshman contribute early like Johnson did, it's not impossible. Neither Hill or Calhoun were as highly ranked as Johnson was as a recruit, but people around Michigan will tell you they think both players have the potential of Johnson.
Hill is one of Michigan's favorite prospects to recruit, a versatile two-sport athlete. Hill is a track star with lightning speed that translates to the field. Hill isn't scared to get involved in the run game and has potential to be an elite run defender on the outside. He also has some ball hawk skills with his length and may project at free safety like Rod Moore. His versatility could allow him and Moore to rotate on the field like the previous scenario we discussed.
Calhoun is another track athlete who thrived on both sides of the ball. Calhoun is a more natural corner than Hill, maybe not as physical but he showed superb play reaction skills in high school. Calhoun finds his way to the ball often and when he gets an interception, he is a threat to find the end zone every time. His ceiling is that of man defender that can isolate a receiver. We will have to see how early he can contribute, but he is a name to watch throughout offseason camps.
Another Transfer?
Michigan was a big factor in the transfer portal this winter. Bringing in 7 experienced players on both sides of the ball. The Wolverines appeared to be targeting players that could fill in holes from anticipated losses to the NFL or transfer portal losses of their own. Many of the new transfers are either a favorite to start or expected to compete for starting jobs in 2023. With Turner and Green heading to the NFL, could Michigan revisit the portal again?
When the portal window first opened Michigan was connected to a few cornerback prospects, including big targets like Tony Grimes and Fentrell Cyprus. Since, Grimes has landed at Texas A&M while Cyrus is heading to Florida State. Another player, Duce Chestnut just recently committed to LSU. Michigan was no doubt unable to pursue any of these players heavily while they awaited the decisions from Turner and Green.
The vast majority of top corner prospects in the transfer portal have found new homes. There are still players available, and other players can still enter the portal. Any experienced corner who entered the portal now, would likely gain interest from Michigan if the fit was right. Especially if this player already had a connection to Michigan.
Summary
Replacing multiple starters is never easy, but it can be done. You don't have to look farther than Michigan in 2022, who had to replace Dax Hill, Brad Hawkins and Vincent Gray. Michigan has two All-B1G caliber corners in Will Johnson and Mike Sainristil returning, as well as two versatile safeties with Rod Moore and Makari Paige. They have a long list of current players who have the talent to break through, just not the experience. Two talented freshmen with high ceilings coming in, looking to be the next Will Johnson. The Wolverines have also showed this offseason they will go into the portal to find more competition if they think a group needs it.
Michigan has multiple options, and no doubt will encourage competition throughout the spring and summer to find the best solution.
—
Discuss this article with our community on our premium message boards
Not a subscriber to Maize & Blue Review? Sign up today to gain access to all the latest Michigan intel M&BR has to offer
Follow our staff on Twitter: @JoshHenschke, @Berry_Seth14, @TrevorMcCue, @DennisFithian, @BrockHeilig, @JimScarcelli, @DavisMoseley, @lucasreimink, @JaredHalus
Subscribe to our podcasts: Apple Podcasts, Google Podcasts and Spotify
Check out Maize & Blue Review's video content on YouTube
Follow Maize & Blue Review on social media: Facebook, Twitter, TikTok, and Instagram