Maize&BlueReview – LOOK: Steven Holtz back in lineup after spending time on ventilator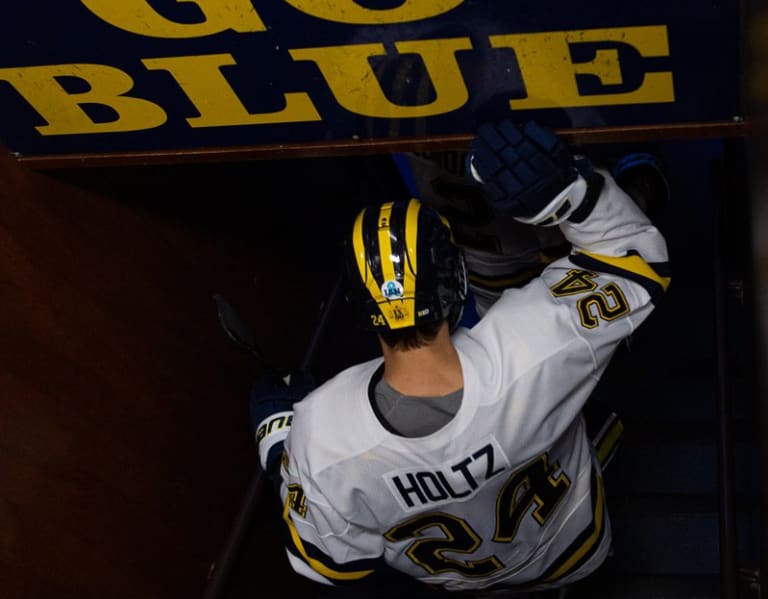 Junior defenseman Steven Holtz is back in the lineup for Michigan tonight. It may not be a big deal to those who aren't familiar with Michigan hockey and Holtz's story, but it is a monumental achievement for the junior.
Back in November, Holtz was away from the team due to a very serious life-threatening illness, and he spent multiple days in the ICU.
Holtz battled, though, and after a long recovery process, tonight he is set to play in his first game for the Wolverines since Nov. 5.
Michigan takes on Wisconsin tonight from Yost Ice Arena.
—
Discuss this article with our community on our premium message boards
Not a subscriber to Maize & Blue Review? Sign up today to gain access to all the latest Michigan intel M&BR has to offer
Follow our staff on Twitter: @JoshHenschke, @Berry_Seth14, @TrevorMcCue, @DennisFithian, @BrockHeilig, @JimScarcelli, @DavisMoseley, @lucasreimink, @JaredHalus
Subscribe to our podcasts: Apple Podcasts, Google Podcasts and Spotify
Check out Maize & Blue Review's video content on YouTube
Follow Maize & Blue Review on social media: Facebook, Twitter, TikTok, and Instagram