Maize&BlueReview – Live scores, updates and highlights: Michigan vs. TCU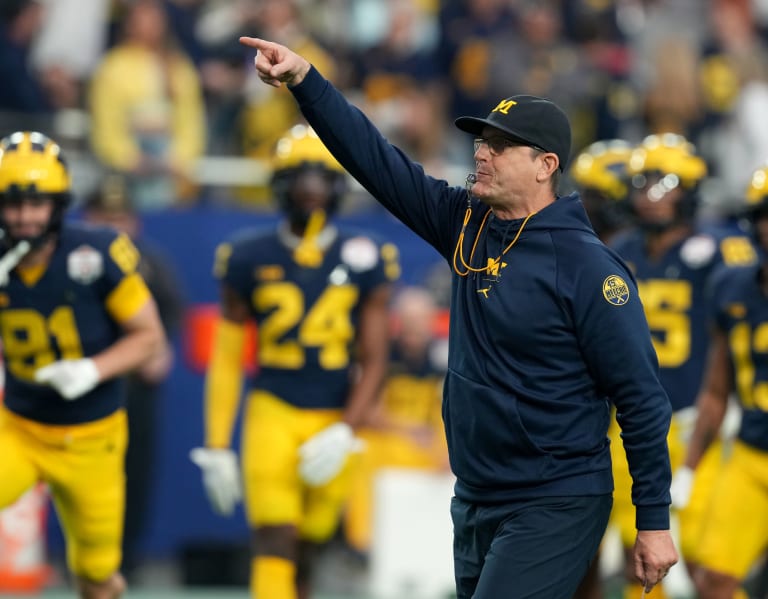 After a long wait, the time is finally here. Michigan is ready to punch its ticket to the national championship but will face a stiff test in order to do so.
The Wolverines will face off against TCU in the semifinal of the College Football Playoff.
Kickoff is set for 4 p.m. ET.
Below is all live scores, updates and highlights as the Wolverines face the Horned Frogs.
– 14:13 Q4: Just like that, U-M's deficit is single digits. A reverse to Roman Wilson has him scampering 14-yards. Two-point conversation has this one within a field goal. Michigan 38, TCU 41
END OF QUARTER 3: Michigan 30, TCU 41
– :00 Q3: Things continue to get interesting here as Mazi Smith rips the ball free on TCU's first play of the drive and the Wolverines take over in excellent field position.
– :03 Q3: Kalel Mullings punches it in from a half-yard out. Two-point conversion is good. Michigan 30, TCU 41
– :09 Q3: Michigan isn't going away. Wolverines are back in the endzone after a McCarthy strike to Ronnie Bell with the fourth quarter looming. Video review shows that Bell might be just short of the pylon.
– :49 Q3: Michigan get gashed on the ground after being too aggressive. TCU answers right back. Michigan 22, TCU 41
– 1:47 Q3: Some life perhaps? Two long runs by JJ McCarthy has the Wolverines responding with a touchdown. Two-point conversion is no good and it's a 12-point game. Michigan 22, TCU 34
– 2:52 Q3: JJ McCarthy tried to deliver a slant pass and threw the ball right to a TCU defender for his second pick-six of the day. Michigan 16, TCU 34
– 4:25 Q3: Just like that, TCU answers back and gains some of the momentum lost. Both teams trading punches. Michigan 16, TCU 28
– 6:32 Q3: Michigan strikes, finally. The flea-flicker works to perfect as McCarthy delivers a strike to Bell and the Wolverines are right back in it. Michigan 16, TCU 21
– 7:44 Q3: Michigan defense is doing things in the second half, can the offense follow along? Mike Sainristil finds a deflected pass fall right into his hands and the offense takes over at midfield.
– 9:29 Q3: Another promising Michigan drive has stalled and U-M settles for three. Field goals aren't going to win this one and the Wolverines will have to manufacture some scoring drives quickly. Michigan 9, TCU 21
HALFTIME: Michigan 6, TCU 21
– :00: Points are points. Thanks to a defensive pass interference call from TCU, Jake Moody was able to set a career-long 59-yard field goal to get points on the board. Michigan 6, TCU 21
– 1:33 Q2: On a drive where Michigan really needed points, a crucial sack on second down ruined the drive and U-M were forced to punt. TCU has a chance to add to its lead heading into the half.
– 4:55 Q2: TCU keeps rolling and Michigan has zero answers. Duggan continues to show why he's a Heisman finalist and adds a touchdown pass to his total. Michigan 3, TCU 21
– 13:08 Q2: Disaster. Kalel Mullings fumbled the exchange and the Horned Frogs take over after it was called a touchback.
– 13:28 Q2: Things change quickly. On the Wolverines' first play, McCarthy throws a ball that was slightly underthrown to Roman Wilson for the touchdown. 51 yards pass. Call was reversed at the half-yard line.
– 13:32 Q2: Michigan catches a break. Junior Colson tips the pass and Rod Moore secures the interception on TCU's first play of the drive. Wolverines take over around midfield. Michigan 3, TCU 14
– 13:48 Q2: Michigan is on the boards after a promising drive stalled near the red zone. Jake Moody knocks home a 43-yarder and it's still a two-score game. Michigan 3, TCU 14
END OF QUARTER 1: Michigan 0, TCU 14
– :00: Michigan is driving and needs points on this drive to get back into this game.
– 2:27 Q1: TCU drives down the field and goes up two scores on the Wolverines quickly. Max Duggan punches it in from one yard out. Michigan 0, TCU 14
– 9:22 Q1: Disaster for the Wolverines. U-M's first play after the punt is a pick-six. Horned Frogs out in front. Michigan 0, TCU 7
– 10:30 Q1: The Wolverines tried to get cute with a double reverse and TCU stuffed it. Wolverines squander a great start.
– 10:39 Q1: After running a mile on third down, somehow JJ McCarthy picks up six to set the Wolverines with a fourth-and-two. Wolverines will go for it here.
– 14:52 Q1: Well, that's quite the start. From the first play from scrimmage, Donovan Edwards runs 53 yards to set the Wolverines up perfectly.
– Michigan will receive the ball first.
– After being limited in practice this week, receivers Andrel Anthony and A.J. Henning are warming up in uniform before the game.
– Blake Corum made the trip to Arizona, he is still on crutches after undergoing knee surgery.
—
Discuss this article with our community on our premium message boards
Not a subscriber to Maize & Blue Review? Sign up today to gain access to all the latest Michigan intel M&BR has to offer
Follow our staff on Twitter: @JoshHenschke, @Berry_Seth14, @TrevorMcCue, @DennisFithian, @BrockHeilig, @JimScarcelli, @DavisMoseley, @lucasreimink, @JaredHalus
Subscribe to our podcasts: Apple Podcasts, Google Podcasts and Spotify
Check out Maize & Blue Review's video content on YouTube
Follow Maize & Blue Review on social media: Facebook, Twitter, TikTok, and Instagram