HawgBeat – Stovall, Tygart garner preseason All-America honors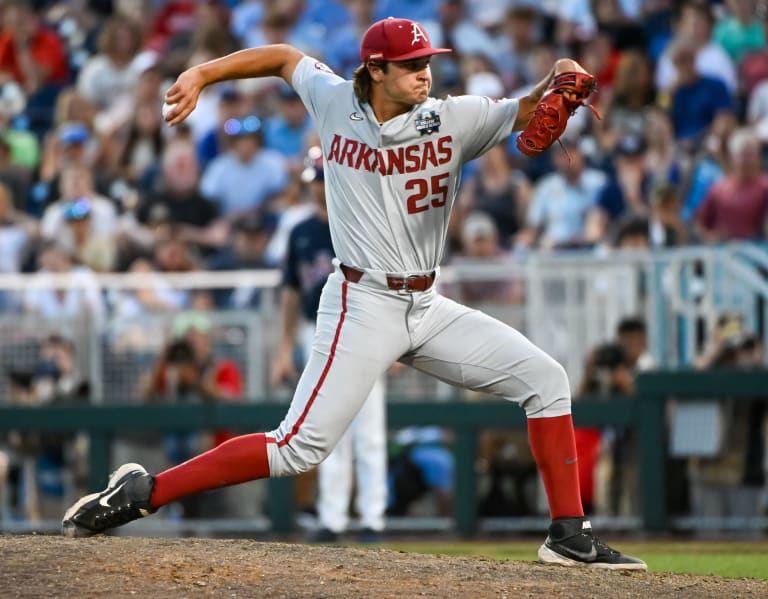 A pair of sophomores for the Diamond Hogs were named preseason All-Americans by two different outlets on Monday.
Right-handed pitcher Brady Tygart was named a preseason Second-Team All-American by D1Baseball, and second baseman Peyton Stovall earned a preseason second-team nod by Baseball America.
Tygart was an elite closer for a significant portion of Arkansas' season in 2022. He recorded a 3-4 record with a 3.82 ERA in 37.2 innings. The native of Hernando, Miss., had a team-high eight saves, six of which were multi-inning saves. Tygart struck out 51 batters and limited opposing hitters to a .212 batting average on the year.
The righty hurler was named to the Freshman All-SEC Team and earned Freshman All-American nods from Collegiate Baseball, National Collegiate Baseball Writers Association (NCBWA) and Perfect Game.
Head coach Dave Van Horn said on Jan. 20 that Tygart has only gotten better since last season.
"He has incredible stuff," Van Horn said. "His velocity is up. His fastball's good. Obviously he's got a really good breaking ball. He's got a couple of them now. He worked on a couple of things."
Van Horn didn't rule out the possibility for Tygart to start at some point this season, but the role will likely continue to be out of the bullpen for the sophomore.
Stovall, who is one of three captains for the Razorbacks, is in position to have a breakout season during his second year in Fayetteville.
As a freshman in 2022, Stovall slashed .295/.373/.425 with six homers and 31 RBIs in 52 games. He found a groove during the NCAA Tournament, slashing a team-best .429/.451/.571 with two home runs and 13 RBIs over 11 games.
"You see a kid that really, the first three-quarters of the season, he was just tight," Van Horn said. "Trying to impress everybody, just trying to live up to the hype, and finally we talked with him, he just said, 'Heck with it,' then he let it go, and then you saw how good he was. He was probably our best hitter down the stretch. You didn't even see him move around a lot, but he's a good middle infielder."
After spending last season at first base, Stovall will move over to second to fill the shoes of former Hog, Robert Moore. The transition should be fairly smooth, as Stovall played at second during his high school days at Haughton High School in Haughton, Louisiana.
"I've played second base pretty much for as long as I can remember," Stovall said. "I've always either played short or second. But second I'm more comfortable at. I started three years there in high school. So I'm definitely comfortable there."
Arkansas now has three total preseason All-Americans — Stovall, Tygart and sophomore LHP Hagen Smith, who was named a preseason Third-Team All-American by Perfect Game on Jan. 5.
The Diamond Hogs will open their season on Feb. 17 against Texas at the College Baseball Showdown at Globe Life Field in Arlington, Texas.