HawgBeat – LHP Hunter Hollan primed to start for Diamond Hogs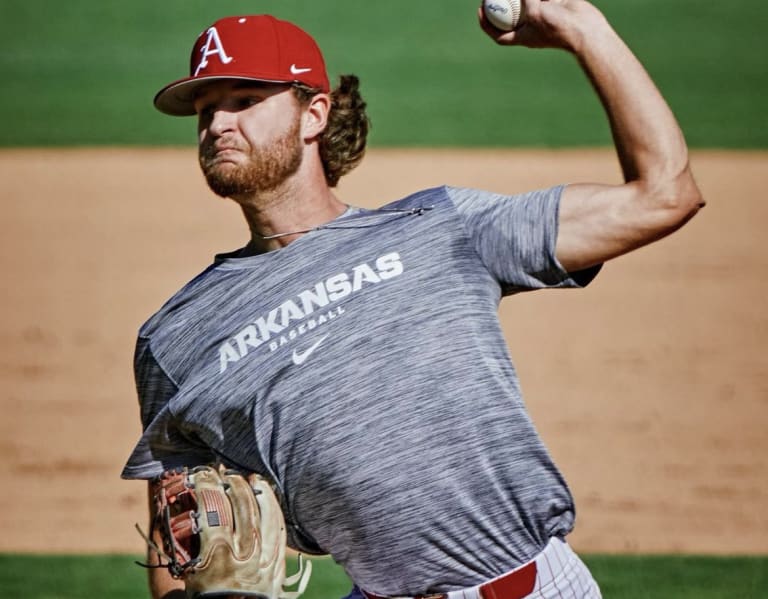 Though Arkansas' pitching staff lost a pair of strong starters in Connor Noland and Peyton Pallette to the MLB Draft, head coach Dave Van Horn brought in a valuable left-hander in Hunter Hollan to spice up his starting rotation in 2023.
The transfer from San Jacinto Junior College will be pushing to be one of the team's three starters, as well as Jaxon Wiggins, Hagen Smith, Brady Tygart and Will McEntire, among others.
As a sophomore in the 2022 season at San Jacinto, Hollan went 9-3 with a 3.59 ERA, 96 strikeouts and 28 walks in 80 1/3 innings on the mound. The year prior, he was 10-3 as a freshman, earning a 3.08 ERA while racking up 104 strikeouts and walking just 17 across 73 innings.
In the fall, Hollan started two games and had a 3.38 ERA in eight innings. He struck out 11 batters and walked three, while giving up three earned runs and seven hits. (stats compiled by Arkansas media)
During the Hogs' 10-2 exhibition win over the Texas Rangers Instructional League team on Oct. 12, Hollan struck out four, walked two and gave up two hits in two innings. Van Horn was impressed with the lefty following the game.
"He was throwing hard tonight," Van Horn said. "He was 95 miles and hour almost every pitch, 95, maybe 94 a couple. Good changeup, just missing. Had a really good first inning."
Van Horn went on to say that he envisions a possible starting role for Hollan.
"The role for him right now, there's a really good chance he's going to be a starter," Van Horn said. "But he could also finish games for us, be a middle guy. It's still going to evolve."
Things will likely be fluid early on in the year, as the Hogs have plenty of starter options, including Smith, who Hollan competed against during his time at Spring Hill High School in Longview, Texas.
Arkansas lost arms that took up a lot of inning last year, such as Noland (116.0 IP), Evan Taylor (44.1 IP), Kole Ramage (50.2 IP) and Zebulon Vermillion (26.1 IP). Despite this, the Razorbacks might have an even better pitching staff this season with the addition of Hollan and other transfer arms.
"Some of the guys we brought in like Hunter Hollan, (Cody) Adcock, we thought they were 90 mph guys," Van Horn said on Nov. 9. "These guys have made some jumps. I'm not going to say they can hold it like Wiggins, but they can throw the ball 94, 95, 93 with good secondary stuff and they fill up the zone."
Standing at 6-foot-5, 195 pounds, Hollan projects to be a top prospect for next year's Major League Baseball draft. He was listed as MLB.com's No. 83 prospect and D1Baseball's No. 43 prospect for the 2023 MLB draft.
Hollan was selected in the 15th round of the 2021 MLB draft by the Milwaukee Brewers, but elected not to sign.