HawgBeat – Hogs still searching for identity without Smith, Brazile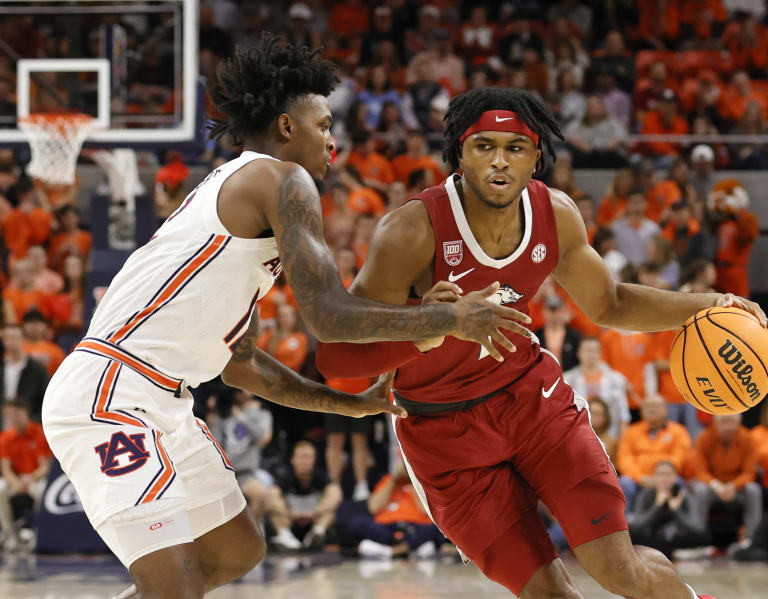 The No. 13 Arkansas Razorbacks played just one game at full health this season, and that won't change with star forward Trevon Brazile (torn ACL) done for the year and freshman Nick Smith Jr. (knee) out indefinitely.
Though the Hogs are still 12-3 overall, they have started 1-2 in conference play with a pair of losses at LSU and Auburn to start things off. Brazile and Smith were two of the team's go-to scorers, and it is clear that they are still searching for someone to fill the basket after scoring season-low totals at Auburn (59) and LSU (57).
"We have some guys that need to share the basketball a little bit more from an offensive standpoint, because we are struggling to score the ball," head coach Eric Musselman said after Saturday's 72-59 loss at Auburn. "Everybody knows it. The three-point shooting, you're not just going to miraculously wake up and all of a sudden become a great three-point shooting team. So you've got to figure out other ways to try to put points on the board."
Musselman let some frustration out after his team shot a season-low 12.5% from three and recorded its second lowest offensive efficiency rating (87.6) of the season against Auburn, according to KenPom.
"But the only thing I know is you've got to get in the gym on your own," Musselman said. "That's something that's been part of our culture. Guys working relentlessly on their game outside of practice."
Just two Hogs scored more than six points against Auburn — Anthony Black (23) and Ricky Council IV (14). Black was 13 of 16 from the free throw line and the rest of the team shot 6 of 16 from the charity stripe.
Of Black's 23 points, 18 came in the second half. He stepped up when the team needed him to, but nobody else really answered the call. Without Smith and Brazile, the Razorbacks are still searching for another answer offensively.
"When (Black) saw that we weren't getting much, he took it upon himself to be way more aggressive offensively," Musselman said. "We needed him to…But again, there's no excuse. You take two really talented players off of any team in the country, two players like Brazile and Nick Smith, we have to figure out how to play better basketball."
According to EvanMiya.com, four of Arkansas' five best five-man rotations included either Smith or Brazile in it.
The schedule doesn't get any easier with conference play in full swing, a top-10 Alabama team coming to town Wednesday and a trip to a talented Baylor squad later in the month. Brazile isn't coming back this season, and Smith is out for at least the rest of January.
Fans can count on Musselman to do his best to figure things out, but the offense definitely wasn't pretty against Auburn on Saturday.
"We've talked to our team about trying to be better cutters," Musselman said."Instead of just dribbling the ball, you've got to cut. Au'Diese Toney was one of the best cutters in the country, Moses Moody was a great cutter for us, Justin Smith was a great cutter for us, Jimmy Whitt was a great cutter.
You've got to move without the ball and figure out how to score across the board. We're not getting as many basket cuts as we have in the past. We're doing the same drills. You've got to figure out when your shot is not falling how to get some easy baskets off of reading the defense."
The Razorbacks will host No. 7 Alabama for a top-25 matchup inside Bud Walton Arena at 6 p.m. CT Wednesday. The game will be televised on ESPN2.