HawgBeat – Diamond Hogs' outfield boasts plenty of Division I experience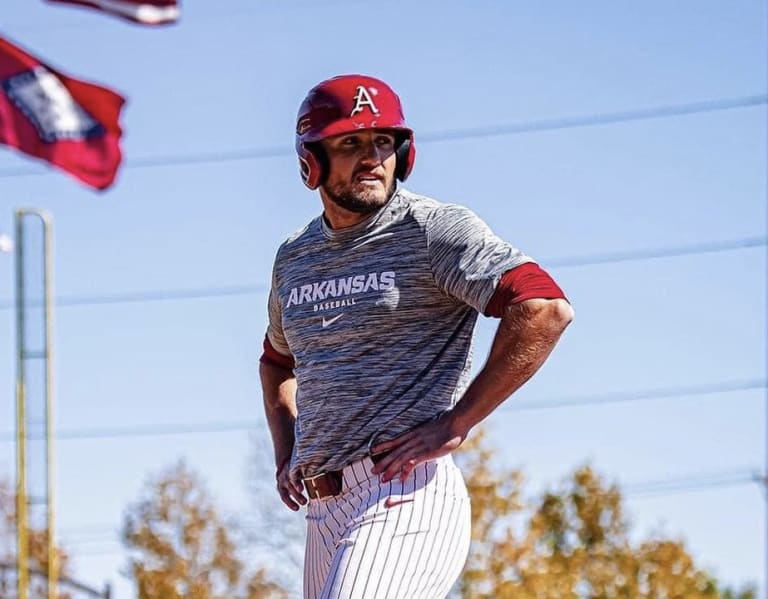 An offseason defined largely by junior college transfers has produced plenty of questions about the Diamond Hogs as the 2023 season draws nearer. While they have yet to prove themselves in the SEC, the Razorback outfielders bring the most Division I experience to the team, which, in turn, will allow them to make significant contributions and provide stability among the unknowns.
Based on their prior DI stops and their strong fall performances, HawgBeat projects Jared Wegner, Tavian Josenberger and Jace Bohrofen to make up the Arkansas outfield, from left to right.
Wegner highlighted the transfer class last summer, electing to use his final season of eligibility in Fayetteville after four years at Creighton. The 23-year-old from Kearney, Nebraska, was a three-year starter for the Bluejays', logging 43 games as a freshman, 17 as a sophomore before suffering a season-ending injury and 49 in his breakout junior year in 2022.
Standing 6 feet tall, Wegner hit 11 of his 14 Creighton home runs last year and drove in 53 of his 80 runs. He hit .343 and registered a near-1.100 on-base-plus-slugging percentage, leading the Bluejays to a second-place finish in the Big East.
In the fall, Wegner dealt with an oblique injury, according to head coach Dave Van Horn, but he was able to start and finish the season in left field. During the scrimmages HawgBeat attended, he slashed .300/.444/.600 with two homers and 12 RBIs in 20 at-bats. Perhaps most impressively, he walked five times and struck out just twice.
Wegner weighed in at 220 pounds this month, a 10-pound jump from the roster provided in September.
"First couple weeks, he was really good, then he hurt himself, and he was a little slow coming back, but he's got power, obviously," Van Horn said Nov. 9.
In contrast to the powerful, middle-of-the-order bat Wegner provides, Josenberger is the prototypical center fielder — fast, high-socked, switch-hitting and, from the Moneyball school of thought, gets on base.
A two-year starter at Kansas, Josenberger, 21, slashed .296/.374/.399, swatted three longballs, drove in 54 runs and scored 82 as a Jayhawk. He also stole 22 bases on 28 attempts.
"We've got a couple of guys that like to run a little bit," Van Horn said. "Josenberger pretty much jumps out at me. He likes to run. Couple others. They've got to get on the field. Right now, Tavian's definitely a starter."
The 6-foot, 185-pound Overland Park, Kansas, native did not make waves the same size as Wegner when he announced his transfer to Arkansas, but he had arguably the best fall of all the 2023 Razorbacks. Josenberger was one of three players to hit above .400 and led the team in on-base percentage and OPS, with .522 and 1.306, respectively. His eight extra-base hits were tied for the team lead as well.
"Josenberger transferred, came in, didn't hit a lot of home runs at Kansas and played hurt the whole second half of last year with his back," Van Horn said. "He's a really good player. He even hit a few home runs (in the fall)."
Rounding out the group in right figures to be Bohrofen, one of four returning position players who logged regular innings last year. He has always been known for his exceptional play in the Cape Cod League and during fall exhibitions, but has yet to put it all together when it counts.
Although he was limited by a shoulder injury, the 21-year-old Bohrofen mustered a slash line of .228/.333/.435 with three bombs and 17 RBIs in his first season as a Razorback. Both cumulative totals were, however, on pace to be better than the numbers he recorded as a freshman at Oklahoma.
In 15 games with the Falmouth Commodores this summer, Bohrofen slashed .281/.379/.544 before returning to Fayetteville in the fall and posted a .300/.442/.475 line with a pair of homers and 15 RBIs, good for second on the team.
"Bohrofen had a good fall," Van Horn said. "He's got a really good shot to be our right fielder."
The two other players listed solely as outfielders on the roster released last week are Brady Slavens and Mason Neville. Van Horn said in November that the former will be the Hogs' first baseman. The latter, a freshman who elected to go to college after the Cincinnati Reds drafted him in July, has a shot to see the field after his flashes of brilliance during the fall.
Perfect Game ranked Neville, who turns 19 this week, the No. 21 outfielder nationally in the class of 2022. A natural center fielder from the Las Vegas area, he hit. 256 with a pair of dingers in the fall, so he will get to play a lot, Van Horn said.
"He started out fall ball on fire," Van Horn said. "He hit a homer and a double I think first scrimmage, and he had a stretch in there where he struck out seven times in a row. And he was kind of like, 'Wow, this is hard here,' and finally got him a hit, we all clapped for him, and I think he relaxed a little bit. I mean, Cayden Wallace had the same thing happen to him his freshman year as well, so he's a good player."
Arkansas will resume intrasquad scrimmages later this month to iron out the opening day lineup. The team is set to open the 2023 slate five weeks from Friday at the College Baseball Showdown in Arlington, Texas.