HawgBeat – Can Hudson Polk win Arkansas' catcher job in 2023?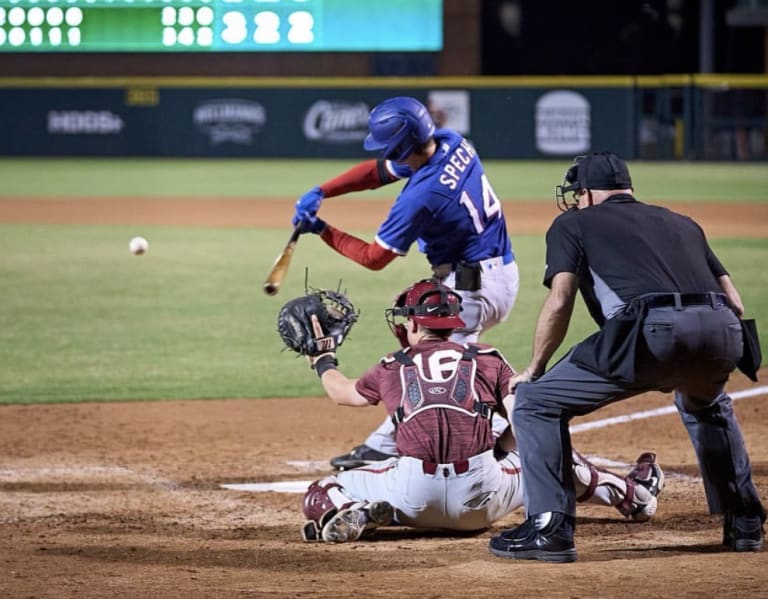 With just two returning starters in lineup from last year's College World Series team, Arkansas head coach Dave Van Horn had plenty of work to do in the transfer portal.
One of the main positions of need was catcher, and he addressed it by bringing in a trio of transfers at the position.
Sophomore Cal Kilgore transferred in from New Mexico State, senior Parker Rowland came over from Eastern Oklahoma State College and junior Hudson Polk landed in Fayetteville via Oklahoma.
During the fall baseball season, Polk seemed to be ahead of the other two, especially behind the plate. During the Oct. 12 scrimmage against the Texas Rangers Instructional League team, Van Horn said Polk called nearly the whole game by himself.
"He did a great job behind the plate," Van Horn said. "You can really see the leadership abilities there. Takes control of the game. We didn't call one pitch, well maybe a couple, I guess we did late…but other than that he called every pitch. He was solid. Blocking was outstanding."
In that same game, Polk showed his abilities at the plate by going 2 for 3 with a double and a home run. He was nine of 38 at the plate with two home runs, 18 total bases, eight RBIs, six runs and four walks in the fall, according to stats compiled by Arkansas media.
"I think Polk was really consistent all fall defensively," Van Horn said on Nov. 9. "He had some good moments at the plate, hit some doubles and some home runs."
Polk, a right-handed hitter, spent two seasons with the Oklahoma Sooners, who fell to Ole Miss in the College World Series final last season.
As a sophomore in 2022, Polk had five hits, five runs, five RBIs, two doubles, one triple, seven walks and eight strikeouts in 16 at bats. Four of his seven appearances came in the third game of early season series'. He had a .980 fielding percentage behind the plate and was just 1-7 when attempting to throw runners out.
During his freshman season in 2021, Polk had two hits, one run, three RBIs and a homer in six at bats. He started one midweek game against Texas Southern, where three of his six at bats came from.
Challenging Polk will likely be Parker Rowland, who spent last season with EOSC. He slashed .408/.509/.668, hit 12 home runs and had a team-best 78 RBIs in 51 games.
During the fall, the switch-hitting Rowland recorded seven hits in 34 at bats and he added a home run, three RBIs and 16 strikeouts, according to stats compiled by Arkansas media.
"Parker was pretty consistent with the bat, not quite as consistent behind the plate," Van Horn said.
Behind the plate last year for EOSC, Rowland had a .988 fielding percentage and threw out 12 of 27 (44.4%) potential base stealers throughout the year, which earned him the Region 2 Gold Glove award.
Prior to his time at EOSC, Rowland spent two seasons at Arkansas State, where he played in 27 games across two seasons. He slashed .165/.233/.203 in 79 at bats with the Red Wolves.
Also on the roster at catcher for the Diamond Hogs is Kilgore, who saw just 14 at bats in the fall, which could have been due to an injury, per Van Horn. He recorded one hit and struck out eight times, according to stats compiled by Arkansas media.
During his freshman campaign with New Mexico State in 2022, Kilgore hit with a .250 batting average in 33 starts. He had 23 hits, 11 RBIs and eight doubles in 92 plate appearances.
Kilgore had eight multi-hit performances last season, including a three-hit effort against Dixie State on May 1. He was successful in five of his seven steal attempts on the year. He struggled with strikeouts, though, as he struck out 35 times compared to just seven walks.
Behind the plate, Kilgore had a .974 fielding percentage and seven errors. He caught 10 of the 28 runners that attempted to steal on him.
Though the Hogs didn't make the "splash" transfer at catcher that some were expecting, it seems like Van Horn is pleased with the guys he has.
"I think that we've got a good mix there," Van Horn said. "We've got a switch-hitter (Rowland) and a right-handed hitter (Polk). They both have a little bit of experience back there and they're both strong. I thought for the most part, the catching position was hopefully solved."