HawgBeat – Arkansas Baseball Notebook: Storylines from first two scrimmages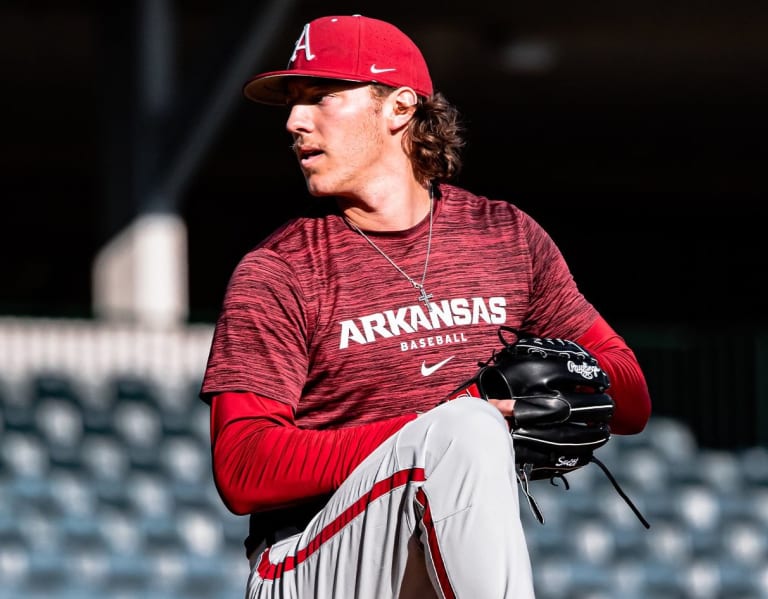 Head coach Dave Van Horn's Diamond Hogs saw their first action of 2023 over the weekend with a pair of scrimmages on Friday and Saturday.
As Arkansas continues to ramp things up ahead of the Feb. 17 Opening Day matchup against Texas at the College Baseball Showdown in Arlington, Texas, HawgBeat will have you covered with free weekly notebooks containing takeaways, notes and tidbits on how the Razorbacks are looking.
For live updates, stats, takeaways and observations from weekend scrimmages, subscribe to HawgBeat.com.
Friday's scrimmage takeaways, notes, stats observations
Peyton Stovall is good at baseball
Stovall ended his freshman campaign in 2022 on a high note, and he's carried that over to 2023. He's already been voted a team captain, and he seems primed to lead by example as well.
In Friday's scrimmage, Stovall cranked a pair of homers to both sides of the field out of the two-hole. He finished his outing with three hits in four at-bats, five RBIs, three runs, a walk and a strikeout. He also added a stolen base in the seventh inning.
"I was feeling good out there," Stovall said. "I'm just glad we were able to be back out there, man."
Stovall went hitless in his Saturday outing, but he did draw a walk and score a run.
There is no question that Stovall will be Arkansas' starting second baseman this season after he was parked at first base last year. Robert Moore set the bar as high as it could go at second base last year by becoming the first Razorback in program history to win a Gold Glove Award from ABCA/Rawlings.
Stovall's natural position is second, but he's got big shoes to fill in the field this year.
"He's got range, he can make plays, he can throw from all the arm slots, turns a double play well, his pivot throws to the shortstop are accurate, his flips are good, he listens," Van Horn said Jan. 20.
Stovall was named a preseason second-team All-American by Baseball America on Monday.
Brady Slavens = back
After having surgery to repair ulnar nerve instability back in August, Slavens was forced to miss all of fall ball. He looked like he hasn't missed a beat over the weekend, and he said he's feeling 100%
On Friday, Slavens started the day 0-2 at the plate, but he had a pair of singles, including a two-run knock to right field, in his next two appearances.
"After not doing anything in the fall, and not really doing anything in the spring, seeing live, you know, it's really impressive," Stovall said. "It's not easy to do that, just jump in the box and look comfortable like that. I thought he looked comfortable, and the swing that he had over three in left field, that line drive, if he stays like that, he's gonna have a phenomenal year for us."
Slavens came back out on Saturday and went 2-3 at the plate with a bomb over the wall in right field against righty Will McEntire.
While Van Horn has said that Slavens will be the Hogs' first baseman this season, Slavens fielded ground balls at third prior to both scrimmages, and he even played at third base during the last few innings of Saturday's scrimmage as JUCO transfer Caleb Cali moved to first.
Slavens made an incredible play by going down to get a hard-hit ground ball and getting back up to make the throw over to first in time. Cali said it's good to keep the team's options open, and Slavens seemed like his time at third wasn't particularly something to expect.
"I don't know," Slavens said. "I just go with whatever is on the lineup card."
It is worth noting that Slavens played at third in high school, at Wichita State and during his time in junior college. He also played some third when he first arrived at Arkansas in 2021, but he eventually spent that year at first.
Despite Slavens' short stint at third Saturday, Cali, freshman Jayson Jones and sophomore Kendall Diggs are the names to watch at third base. Cali earned the nod with the projected starters both days, and he said he played primarily at third base during his 2022 campaign at College of Central Florida.
Bolton leads shortstop battle
A name that Arkansas fans might be unfamiliar with is John Bolton, who transferred in from Austin Peay. Bolton seemed to have gained a slight edge over JUCO transfer Harold Coll during the fall, and the gap grew a little more over the weekend.
Bolton crushed a double off the wall in left out of the nine-hole for the Gray team during Saturday's scrimmage, while Coll went 1-4 with an infield single and a strikeout for the Red squad.
In the field, Bolton seemed to work smoother at short, making more accurate throws over to first. Both Bolton and Coll managed to turn 4-6-3 double plays Saturday.
Bolton posted a .974 fielding percentage with Austin Peay last year, making just six errors in 56 starts, 54 of which came at shortstop. Coll recorded a .911 fielding percentage with 11 errors at San Jacinto College last year.
There is still plenty of time for either to make a move, but Bolton was part of the lineup that seemed to be the projected starters on both Friday and Saturday.
How about the lefties?
Two strong candidates to start for Arkansas and left-handers Hagen Smith and Hunter Hollan. Both had excellent outings during Friday's scrimmage.
Hollan earned the start for the Gray squad, and he sat five batters down on strikes and gave up just one hit during his two innings pitched. The lone hit was a leadoff double for Tavian Josenberger, but it was a routine pop-up that ended up dropping in shallow right field.
Smith started for the Red team opposite Hollan, and he struck out four in two perfect innings.
"Hagen and Hunter are two really good dudes for us," Stovall said. "They're gonna be guys that are gonna have a lot of innings for us, and they pitched the way that they're supposed to. They gave us a really good look. We struggled early."
Hollan spent the past two seasons at San Jacinto, where he started 16 games last year. He said the starting role is what he prefers.
"Starting is where I'm comfortable at," Hollan said. "It's where I like to be, but man, we've got a bunch of arms, as you saw today, that it doesn't matter who you roll out there, so we're gonna be good."
After a strong start to his true freshman campaign in 2022, Smith fell off near the end of the regular season. He seemed to hit the "freshman wall," but he provided valuable innings out of the bullpen during the postseason. Smith is primed to be one of the premier lefty starters in the SEC this season.
Returning pitchers struggle
Expectations are high for the 2023 Arkansas pitching staff, which Van Horn said is the deepest he's ever had. A pair of returning arms struggled during their first outings of the year, though, but there doesn't seem to be any cause for concern.
Sophomore Brady Tygart and senior Zack Morris both threw on Saturday, and both of them had a few bad moments.
Tygart came out of the bullpen for the Gray squad and he immediately allowed freshman Mason Neville to lead off the second inning with a single. Neville then stole second and advanced to third when Tygart made an errant throw to check on him.
Junior Hunter Grimes drove Neville in with an infield single before Tygart was able to finally see a pair of outs come on a double play. After walking Isaac Webb and giving up and RBI double to junior Peyton Holt, Tygart managed to settle down and retire the last four hitters he faced.
Morris came out of the bullpen for the Red team and he gave up four hits, three runs and a walk before the inning was called with just one out and two runners on base. The next inning, Morris gave up a leadoff single to Creighton transfer Jared Wegner and then he struck out junior Jace Bohrofen before pitching coach Matt Hobbs went to the mound to end Morris' outing.
While their outings didn't go as planned, I wouldn't put too much stock into the struggles. Both Tygart and Morris will play big roles out of the bullpen for the Hogs this year.