HawgBeat – Arkansas Baseball 2023 Lineup Projection: No. 4 – Brady Slavens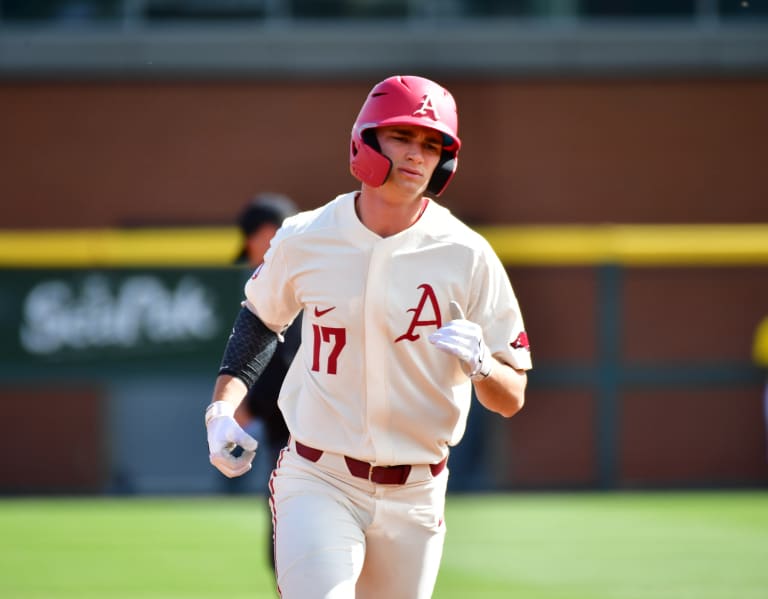 We are 13 days away from Arkansas baseball, and HawgBeat is continuing its lineup preview series for the 2023 Diamond Hogs.
The Razorbacks will return just two starters from last year's lineup, so fans will soon become familiar with all of the new faces.
With scrimmage coverage, weekly notebooks, position previews, the Diamond Hawgs Podcast and more, HawgBeat provides the best Arkansas baseball coverage around.
We continue things with the cleanup spot, filled by a player who needs no introduction to Razorback fans…
#6 – Brady Slavens – 1B
Sr. | L/R | 6′ 3″ | 205
Olathe, Kan. / Olathe Northwest HS / Wichita State / Johnson County CC
2022: 63 games, .255/.332/.523, 35 R, 61 H, 10 2B, 3 3B, 16 HR, 58 RBI, 30 BB/66 K, 2 SB
Returning for year three in a Razorback uniform, Brady Slavens is fully recovered from an offseason surgery on his throwing elbow, which was bothering him for most of the 2022 season.
"No pain," Slavens said Jan. 28. "Feeling really good."
Slavens, 22, is shaping up to be one of the cornerstones for the Diamond Hogs this year, joining Peyton Stovall as the only other returning starter in the field. His 30 home runs and 121 RBIs during his Arkansas career show the wealth of experience he brings against SEC pitching in an order that severely lacks it.
While his 16 longballs tied for the team lead in 2022, Slavens took a step back statistically in almost every other category from the year before. His 66 strikeouts were also a team-high, and he saw drop-offs in runs, hits, doubles, RBIs, average, on-base percentage and slugging percentage despite an 11% increase in plate appearances.
As head coach Dave Van Horn mentioned in the fall, however, 2023 brings a new opportunity for Slavens, and seemingly a lot less pressure with it.
"He saw this fall that he's going to be surrounded by some good hitters, so it's not like he's got to go up there and hit a three-run homer every other at bat," Van Horn said Nov. 9. "We're really working with him going the other way like he did pretty much down the stretch. I remember the home run he hit opposite field against Oklahoma State that gave us the lead in that regional and some balls up the middle against North Carolina. I think he's going to have a good year for us."
Van Horn noted last month that Slavens and the coaching staff have stuck with that middle-opp approach, citing one specific at-bat this offseason in which he hit a pitch on the inner half more than 400 feet the other way.
On the other side of things, Slavens figures to slot back in at first base, where he spent most of the 2021 season. He was mostly confined to the designated hitter spot last year as he dealt with elbow discomfort — which resulted in the surgery to repair ulnar nerve instability.
Van Horn has been adamant throughout the offseason that that will be the case. However, Slavens took reps at third base before both open scrimmages last weekend, and he even logged a few innings at the hot corner toward the end of Saturday's contest.
In a small sample size, Slavens looked serviceable at worst, making a couple throws across the diamond to Caleb Cali, who is expected to be the primary third baseman.
Slavens is no stranger to the other side of the infield, having played there in high school, at Wichita State, in junior college and again in Fayetteville during the fall before the 2021 season. He did not give any indication of how often fans should expect to see him on the left side.
"I don't know," Slavens said. "I just go with whatever is on the lineup card."
The Diamond Hogs will continue to iron out their preferred defensive alignment over the next couple weekends during scrimmages. This week's ice storm rendered the field at Baum-Walker Stadium unplayable, so the action will not be in the public eye this weekend, but media and fans should have the chance to watch them again Friday.
Arkansas' season will begin Feb. 17 at the College Baseball Showdown in Arlington, Texas. First pitch against the Texas Longhorns at Globe Life Field is scheduled for 7 p.m. CT.
HawgBeat's Lineup Breakdown Series
1. #12 – Tavian Josenberger – CF
4. #17 – Brady Slavens – 1B
5. (Sunday, Feb. 5)
6. (Monday, Feb. 6)
7. (Tuesday, Feb. 7)
8. (Wednesday, Feb. 8)
9. (Thursday, Feb. 9)
Bench players (Friday, Feb. 10)
More of HawgBeat's Arkansas baseball content